I may have mentioned once or twice or a few dozen times that, or the first 30 or so years of my life, I hated parakkai (also known as pavakkai, karela, bittermelon or bittergourd - or, if you're my husband, as "green rats"). If you're a karela lover, today's recipe will be right up your street. If you're not a karela lover, this recipe will still be quite a way up your street because you will not taste the bitterness from the vegetable at all.
If you know your karela at all, you would think it's hard to mask the bitterness, but because everything is roasted and there are lots of other ingredients, the resultant powder has no discernible bitterness. At least, none that I could taste. And I didn't even peel the skin or discard the seeds (although if they're red and hard, DO scoop them out and discard) or salt the cut bittergourd to reduce the bitterness. Because I'm lazy and that's the way I roll, baby.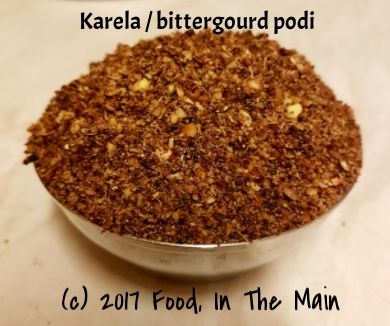 I ate this mixed with rice and ghee, I ate it sprinkled over roasted vegetables, I ate it as a side with kootu and roti, I ate it mixed with yogurt both as a dip and as a salad dressing - it's my most favourite thing at the moment, and it seems to work with everything.
Best of all, since the karela is oven roasted with only a mimimal amount of oil, it's a healthy podi. There are versions where the vegetable is deep fried until crisp, but - while I love deep fried foods with a deep and abiding love - I see no need to load this podi with unnecessary calories.
Recipe for:
Bittergourd / pavakkai / karela podi
Ingredients: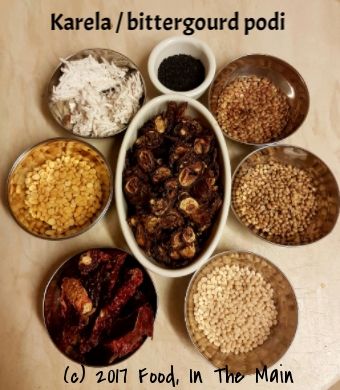 3-4 medium size tender karela
10 dried red Kashmiri chillies
2 tbsp coriander seeds
2 tbsp whole urad dal
2 tbsp chana dal
2 tbsp kollu or horsegram
2 tbsp fresh or frozen grated unsweetened coconut
1 tbsp black sesame seeds (regular will probably also do)
Handful of curry leaves (fresh or frozen)
2-3 cloves of garlic, halved
1 small gooseberry sized ball of tamarind (seeds and strings removed if any)
1/2 tsp asafoetida powder
1/2 tsp + 1 tbsp oil
Salt to taste (or about 1.5 tsp)
Method:
1. Thinly slice the karela, mix with 1 tbsp oil and roast in a 180C/350F oven until the slices are brown with very little green showing. This should take about 30 minutes, but be sure to stir them around every 10 minutes so that they crisp evenly. Let them cool completely.
2. Heat the oil in a wok and add the red chillies. Roast on a medium-low flame, stirring often until the chillies turn a darker shade, about 5 minutes. Be careful not to burn them or you'll regret the fumes! Remove to a plate and cool.
3. Add the coriander seeds, the sesame seeds and all the dals. Dry roast them, stirring often, until they are toasted and fragrant, and turn a darker shade. Again, don't burn them or the podi will taste bitter. Add to the roasted chillies and let cool.
4. Finally, add the coconut, curry leaves, garlic and tamarind and toast in the pan, stirring frequently, until the coconut has turned golden brown and has no more moisture in it - yet again, be careful not to burn it.
5. Once all the ingredients are cool, grind them into a slightly coarse powder. Add salt and asafoetida powder and mix well. Store in an airtight container.