Until yesterday, I'd only ever seen nankhatai in photos on various blogs (most of them very, very beautifully shot photos, I might add). Never seen them in real life, never eaten any (not that I know of and not by that name), never baked any. Since Diwali is next week, and because I'd just bought a lovely big bag of pistachios recently, and also because our friends were going to drop by and I wanted to bake something for them with an Indian touch, I decided to make nankhatai with the pistachios and the last of my stash of saffron. The recipe I followed is on Nandita's Saffron Trail blog. My only two additions were pistachio nuts in the dough itself, and extra milk as the ghee alone was nowhere near enough to bind the mixture together to make a dough.
And what a good decision it was. I love saffron - although I don't use it often because it's expensive - and I love pistachios, and I know they're a flavour match made in heaven (fictitious place, obvs, but the match is very real and the flavours are very lovely!). These cookies are very moreish - they're not too sweet, the saffron flavour is awesome, the pistachios are delicious and the semolina gives the nankhatai a lovely crunch. Be sure to use fine semolina, though, otherwise, the nankhatai might have a sandy mouthfeel rather than crispness. Happy eating, people!

Recipe for:
Kesar pista nankhatai (saffron pistachio cookies)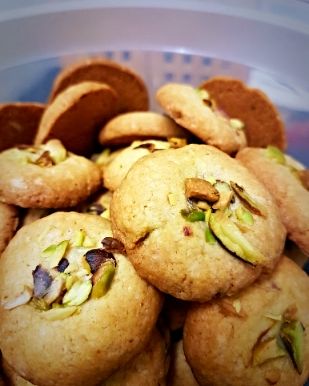 Ingredients:
1.5 cups plain flour
2.5 tbsp chickpea flour
1/2 tbsp fine sooji (semolina)
1/2 tsp baking soda
1/4 cup slivered pistachio nuts
2 tbsp finely chopped pistachios (optional)
1/2 cup powdered sugar
1/2 cup melted ghee (clarified butter)
1/4 tsp saffron strands, crushed in a small mortar-pestle
Milk as required
Method:
1. Preheat the oven to 180C/350F.
2. Sift together the flours, semolina and baking soda in a medium bowl. Mix in the slivered pistachio nuts and set aside. Warm 2 tbsp of the milk and let the saffron steep in it for 5 minutes.
3. In a large bowl, mix together the ghee, powdered sugar and saffron-milk until smooth, then add the flour mixture. Add extra milk a tablespoon at a time until you can form a soft dough. Be careful not to add too much liquid.
4. Roll the dough into balls the size of large marbles and place on a cookie sheet lined with non-stick paper or foil, leaving a gap of about 1.5 inches. At this point, if you wish, you can make a dimple in the centre of each cookie with your thumb and sprinkle a pinch of the chopped pistachios. If not, just flatten each ball slightly and place in the preheated oven.
5. Bake for 15-18 minutes or until the cookies are a pale brown, switching the tray around after 10 minutes so that they brown evenly.
6. Remove to a wire cooling rack. The cookies will crisp up as they cool.
7. Try not to eat all the nankhatai yourself.