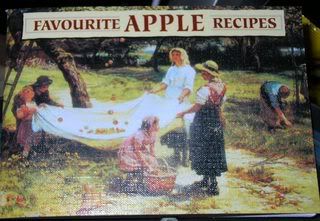 I got this traditional English recipe from this little cookbook I bought for £1 in a pound store - where everything in the shop sells for £1 or less. Yes, they sell things for less too. The last time I went there, they were having a "half-price sale" on certain items! 1/2 of £1 - wow, savings of 50p! *wink*

Anyway, I like the recipes because they use English apples - Cox Orange Pippin, for one. I would love to try local or traditional English varieties just to see how they turn out in the recipes.

There are a few recipes in this book that seem a bit weird to me - one or two are savoury ones using pork, which I am not really hankering to try. Most, however, are really basic and simple (assuming you have puff pastry or sweet shortcrust pastry at home, that is).

This apple sponge recipe is one of the quick and basic ones that didnt call for any kind of pastry. It was just right to use up two medium Granny Smith apples (I dont know if they're a special English variety, I used them because they were the only apples I had!), although the book does not specify any particular apple for this recipe - just any cooking variety would do.

According to my little cookbook, this sponge is best served warm with clotted cream. I'd go for the icecream, personally speaking.

Recipe for:
Traditional apple sponge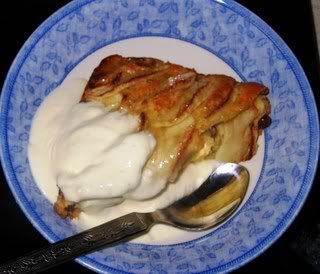 Ingredients:

2 Granny Smith apples, peeled, cored and sliced to medium thickness (5mm)
1 cup self-raising flour
1/3 cup butter or margarine
1/3 cup caster (superfine) sugar
1/3 cup sultanas
1/4 tsp salt
2 eggs, beaten
1/4 cup milk (or as required)
2 tsp vanilla essence
2 tbsp demerara sugar mixed with 1/2 tsp cinnamon powder

Method:

1. Grease a 6" round pan lightly with cooking spray or butter. (I used a heart-shaped pan.) Heat the oven to 200degC.

2. Sift the flour and salt in a mixing bowl.

3. Rub in the butter or margarine, then stir in the caster sugar and sultanas.




4. Add the beaten eggs and vanilla essence and mix, adding as much (or as little) milk as required to make a fairly stiff batter.

5. Spoon the batter into the prepared pan and level with the back of a flat spoon, dipping the spoon in water to stop the batter sticking to it.




6. Arrange the sliced apples in a concentric overlapping pattern (if using a round pan) to cover the surface of the batter.




7. Sprinkle the cinnamon-demerara sugar mixture over the apples.




8. Bake in the pre-heated oven for 30-45 minutes or till the sponge tests done.

9. Let the sponge sit in the tin for 5 minutes,




then turn it out onto a serving plate.




10. Serve warm with icecream or clotted cream.