I had a bit of a debate with myself before putting up this post on idli upma, because it seemed almost like cheating to make an entire "recipe" of this dead simple snack. Still - I did it. One is obliged to, on such occasions. Got to keep the flag flying, keep the banner high, grit one's teeth and march on with one's chin firmly elevated. One has one's reputation to keep up, what?

What reputation, you ask?

You know... the reputation. That thing I am known for.

Recipes that are ridiculously simple?

Yep, that will do. That's my rep, and I will keep it up, forsooth!

So here it is - idli upma, that handy snack made from stale(ish) idlis. Fresh idlis arent forbidden from being made into upma, but it would be a bit of a shame to do it to fresh 'uns that are soft and fluffy and crying out for some coconut chutney and sambar and tomato thokku...

Excuse me - I need to get a towel and wipe my face now.

Yes, that's also a reputation I'm obliged to keep up. I was brought up to be polite and wipe up my saliva if it ever left the confines of my mouth.

Disgusted yet? No? Well done, looks like y'all have a reputation to uphold as well - which is, not to be put off by my posts!

Heheh.

Right, I was on about fresh idlis vs stale idlis for making idli upma. By stale, I mean day-old idlis, that's all. I honestly dont make use of food that's actually gone OFF, except as garbage bin fodder. Day-old idlis are easier to work with, as they can be cut up easily. Well, I cut them up with a knife. You can tear 'em up with your hands, of course. But I happen to have a reputation of meticulousness to keep up!

If y'all have quite finished laughing there... thank you. Might I now be allowed to continue?

Idli upma, yeah. I made idli upma because a batch of idlis came out a bit sticky-textured towards the centre. I could have put them back in the steamer, but I didnt. I left them overnight to see if they would unsticky-fy (allow me to introduce a hitherto unknown word), but they hadnt. So upma it had to be. This, by the way, is the most basic of recipes - idli upma can be jazzed up in
many
different
ways
.

But here is my recipe.



*phew* It's absolutely exhausting, cooking up a post out of insubstantial ideas!



Recipe for:
Idli upma


Ingredients:




4-5 day-old idlis, cut up into small chunks
1 tsp mustard seeds
1 tsp urad dal
3-4 fresh green chillies, sliced into very thin rings
a good pinch of asafoetida powder
4-5 fresh curry leaves
pinch of turmeric powder
2 tsp oil
Chopped fresh coriander for garnish

Method:

1. Heat 1 tsp oil in a pan, drop in the mustard seeds, curry leaves, urad dal and green chilles. Cover and let the seeds pop.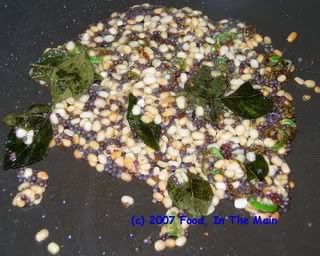 2. Stir in the turmeric and asafoetida powders, then add the cubed idlis.

3. Pour the remaining tsp of oil over the idli pieces and stir gently over medium high heat, so as not to break the pieces up completely.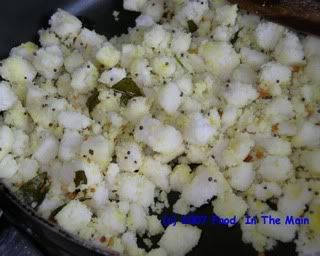 4. When the pieces are heated through and beginning to turn pale golden in places, turn off the heat. Sprinkle the chopped coriander over the top and serve hot with ketchup.