I have to say that baking with eggs is a LOT less hassle than egg-free baking. As per my previous post on fried-vs-baked, I really think that egg-free baked goodies usually come off second-best. They are fairly uncommon occasions when I'm perfectly satisfied with eggless baking outcomes.

The thing is, I dont have the time or the patience to keep trying variations on recipes to see which might work out best. I prefer to let others do the trying-and-testing - this is why I buy cookbooks, for cryin' out loud! It really annoys me when a cake turns out too gluey or too crumbly or too crisp - especially when I've been trying to make the cake as a special item for someone (like my mother) who will not eat eggs or anything made with them.

So, just to get over the last few occasions when I've been dissatisfied with my baking efforts, I made these muffins. (One egg required). Well, not JUST because of that. Also because I had two overripe bananas - whose lives I had protected endangering life and limb. Pete doesnt like to be around overripe bananas. (He's the kind of guy who eats his bananas just barely ripe.) I had to resort to hiding the damn things around the house the last couple of days, moving them from place to place, while he went around sniffing the air like a bloodhound. Or possibly like the Giant at the top of the Beanstalk. ("Fee fi fo fass, I smell me some overripe bananass" - ok, never claimed I could rhyme well, or at all).

Anyway, this recipe makes six large muffins - no fuss, no mess. I liked them especially because they werent oversweet. Nice with a glass of milk.

Recipe for:
Banana-pistachio muffins


Ingredients:

1 heaped cup all-purpose flour
3/4 tsp baking soda
1/4 tsp salt
2 overripe bananas
1/2 cup brown sugar
1/2 cup vegetable oil
1 egg
1 tsp pure vanilla extract
a handful of pistachio nuts, roughly chopped




Method:

1. Preheat oven to 180C.

2. In a large bowl, combine the flour, baking soda, and salt.

3. Mash the bananas with a fork in a small bowl.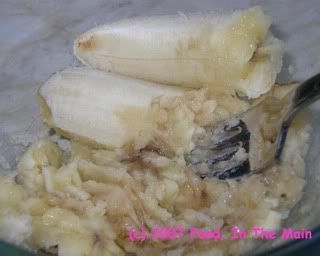 4. Remove 1/2 the mashed bananas to another bowl. Add the sugar and whip it briskly with a balloon whisk for 2 minutes.




5. Add the oil, egg and vanilla and beat well.

6. Now add this to the flour and mix till just incorporated.

7. Fold in the nuts and the mashed bananas with a rubber spatula.




Spoon the batter into the muffin tins (use paper cups if you like) to fill them 3/4ths of the way.

8. Bake until a toothpick stuck in the muffins comes out clean.




Let cool for a few minutes in the pan before turning the muffins out.

Serve warm or at room temperature.