It's always the same – when I read about something new (and vegetarian) that I haven't seen or tried eating/cooking before, I simply HAVE to source some of it for myself. Now, things like edamame-in-the-pod and green chickpeas and other such exotic things aren't found easily in the UK – or at all, actually. Heck, you cant even get frozen okra. Not even in the frozen section of the supermarket… that is to say, the section in the supermarkets where you find the frozen items (just to clarify).

(Not that I'd buy frozen okra… I just have the feeling that it would be awash in slime once it thawed out. It probably wouldn't, but you know what those mental images of things you have never seen are like – they persist in your head beyond reasonable argument!)

Anyway, when I discovered that my favourite online Indian greengrocer was selling canned tuvar lilva, I immediately ordered a can to see what tuvar lilva was like, to try it out. Yeah, it's not the same as fresh, but it's better than nothing. And don't try to convince me otherwise because I don't want to know!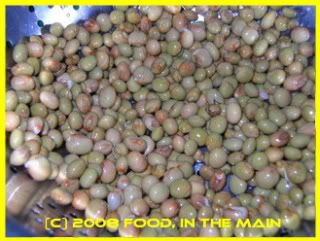 Of course, true to form, once I had that can in my pantry, I let alone for a few months, occasionally looking in on it in a slightly gloating fashion ("I've got tuvar lilva too") but eventually letting it remain on the shelf. Well, it's got to get accustomed to its new surroundings, right?

Yesterday, however, the time came for me to open my precious can of tuvar lilva (yes, of course I checked with a couple of astrologers for the most auspicious time for the grand opening), in response to a request from my mother to "make something different") for dinner.

So, with much fanfare and to the booms of a 21-gun salute, I applied the can opener to the can – and slowly the contents came into view... roundish, greenish, beanish tuvar lilva. I thought they looked remarkably like the gungo peas with which I'd experimented earlier. In any case, they tasted quite nice... although I cant help wondering what they're like fresh. I guess I should be pleased that I could at least get the canned version – like I said, better than nothing – but it's in the nature of things for human beings to want that which is not available… and say what you will, I AM human.

And after all that, on to the recipe!

Recipe for:
Tuvar lilva dal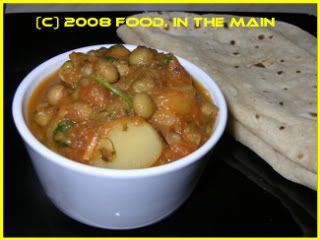 Ingredients:

1 generous cup canned cooked tuvar lilva
3 medium onions, sliced
3 tomatoes – 2 quartered, 1 chopped fine
10 small baby potatoes, halved (or quartered, depending on size)
4 green chillies, chopped fine
1 tsp grated ginger
½ tsp cumin powder
1 tsp cumin seeds
1 black cardamom
½" stick cinnamon
½ tsp coriander powder
¾ tsp garam masala
1 tbsp kasoori methi
1 tsp cornflour
1 tbsp oil
Salt to taste
Water as required

Method:

1. Boil the sliced onions in 1 cup of water, covered, for 10 minutes or until the onions are soft and cooked.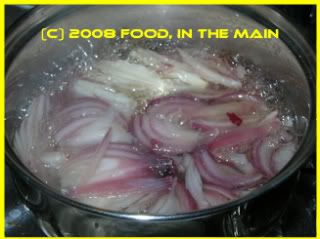 Drain the cooking water and reserve. Let the onions cool.

2. Grind the cooked onions with the two quartered tomatoes (adding ¼ cup water if required) into a smooth paste. Reserve.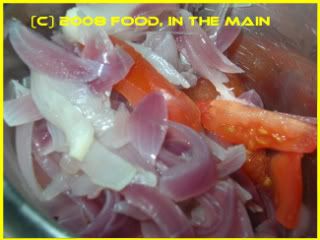 3. Heat oil in a pan, add cumin seeds & cumin powder, green chillies and ginger.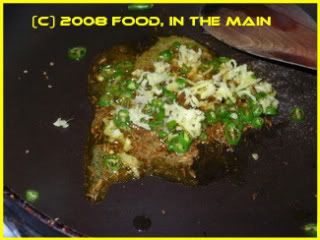 Fry for 1 minute. Then add the cinnamon stick, black cardamom, garam masala, kasoori methi and coriander powder. Stir well and continue to fry for another minute.

4. Then add the chopped tomato and the potatoes, stir it all about till well coated with the oil and spices.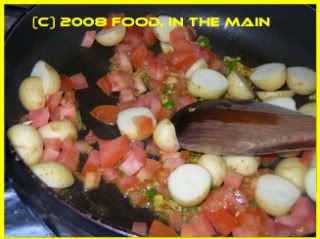 Then pour in the reserved onion water and add the kasoori methi. Stir well and cook on high heat till the water has nearly evaporated.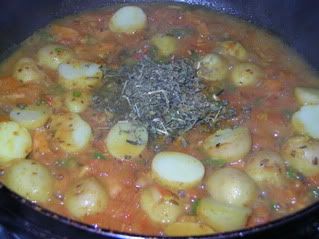 5. Now pour in the ground onion-tomato mixture along with 250 ml (1 cup) water.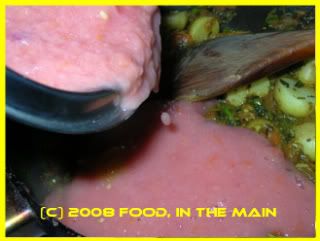 Mix well and bring it to a bubbling boil.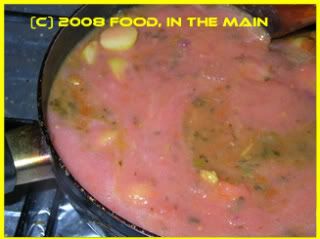 Then turn down the heat to a simmer and let it cook for 10-15 minutes or till the potatoes are done.

6. Add salt to taste along with the cooked lilva tuvar. Turn the heat up again and let the dal bubble for another 5-6 minutes, until any excess water evaporates and the dal thickens.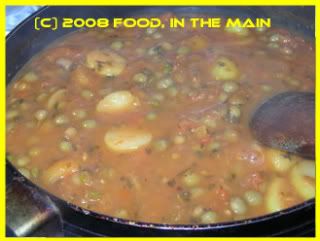 If it doesn't get a thick consistency, spoon out some of the watery parts, whisk in the cornflour and stir it back into the dal. Let it boil for a couple of minutes till the dal comes together.

7. Finally garnish with chopped coriander and serve hot over plain rice, or with chapaties.