The first time I tried nut roast was a few years ago, when we went for Sunday lunch with my father-in-law and his partner, in honour of his birthday, to a pub that he favours. Sunday lunch usually involves roast beef, lamb or turkey, sometimes chicken, along with a selection of steamed vegetables and roasted potatoes, and of course a jug of gravy.

Me being vegetarian, I had to go for the only veggie option there was in the Sunday lunch section – which was nut roast. I didn't know what it was or what I was going to get, but to my pleasant surprise, it was delicious! I don't know if they made the nut roast from scratch at the pub or whether it was just cooked from frozen, but it didn't matter – it was absolutely scrummy. I never had it anywhere else and we never went to that pub except with my f-i-l, but every time we went there, that's what I had. The nut roast.

I don't know why I didn't think to try making it at home… well, perhaps I do know. It's probably because the nut roast, in my mind, was linked to a specific meal at a specific place on a specific date with specific people… (and does the word specific now look as weird to you as it does to me? Repetition causes confusion.)

My mother is going to spend Christmas with us this year, the first time that circumstances have made it possible for her to be with us. (People, there IS a point to this, I'm not digressing, and especially not digressing without reason!) She was wondering what she would be able to eat for Christmas dinner, since she doesn't even eat eggs or anything containing eggs in any form, and whether it would be too much trouble to cook for just her alone. That's when I had the brilliant idea – I would make a nut roast for the vegetarians in the family! (See, I TOLD you, there was a point and I just made it. Without going off on a tangent. [All you need for this to happen is get the moon and the stars in the correct alignment.

NOW I'm digressing

.

Guess the moon and stars moved

.])

Of course, I didnt want to make a nut roast on Christmas Eve and then have it flop, so the next thing to do was make it now, as an experiment. (If it didnt work, at least I wouldnt have ruined our meal for Christmas!) So, I researched nut roasts and discovered that the recipe is nicely forgiving, able to accommodate pretty much anything you throw into it. The recipe below is an amalgamation of 2-3 different ones, using ingredients I prefer (courgette not aubergine, for instance; wholewheat granary breadcrumbs instead of white, etc)... and omitting the eggs entirely.

To my delight, the nut roast was as gorgeous as the one I'd had at the pub... the texture and taste were perfect. If it didnt quite hold together as well as it should have, I attribute it to the lack of egg as a "binder" (In hindsight, I should have added extra breadcrumbs). Not that I minded, and even Pete, despite good-naturedly grumbling about "too many vegetables", thought it was very tasty.

Hooray, I have a vegetarian roast recipe for Christmas! (Amma, take note.)

Recipe for:
Nut roast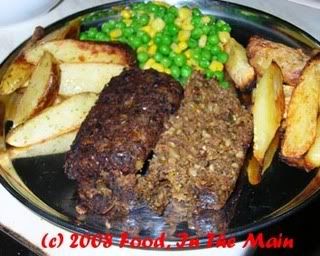 Ingredients: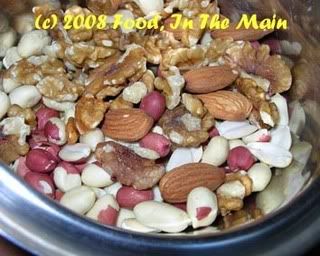 1 cup peanuts
½ cup walnuts
Handful cashews (about 10)
Handful almonds (about 10)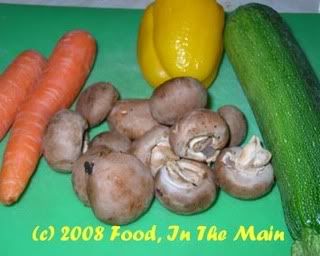 1 medium courgette
1 medium carrot
1 medium onion
1 bell pepper
1 cup button mushrooms
4 cloves garlic, minced
1/2 cup masoor dal (+ 2 tbsp whole masoor - optional)
2-3 dried birds eye chillies, minced (or use fresh green chillies to taste, minced)
2 cups fresh breadcrumbs (I used wholewheat granary bread)
2 cups chopped herbs (combination of parsley, coriander and dill)
1 tsp dried thyme
3/4 tsp turmeric powder
1 tbsp dark soy sauce
2 tbsp Worcestershire sauce
2 tsp sunflower oil
1 tsp dried thyme
Salt and pepper to taste

Method:

1. Wash the masoor dal.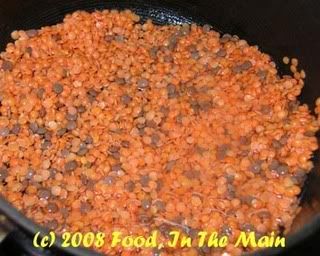 Cook in boiling water till done but not mushy.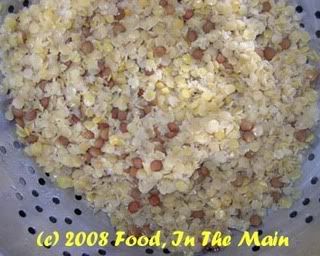 The stove-top will do fine for this as masoor cooks very quickly, and you can keep track of its texture. Drain off the cooking water and reserve the cooked lentils.

2. Chop the nuts finely (but not to a powder – just small pieces) in a food processor (or by hand if you have that sort of patience).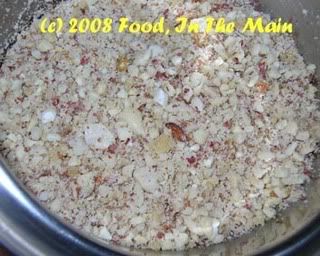 3. Peel and grate the carrot. Chop the courgette, onion, bell pepper and mushrooms very finely.

4. Heat the oil in a large, heavy bottomed pan and fry the onions, garlic and chillies till the onion is soft and brown.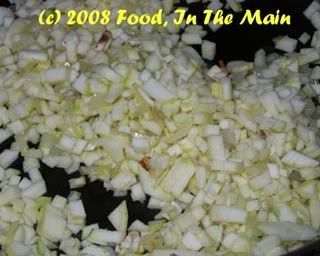 5. Add the chopped herbs, dried thyme, turmeric powder, chopped courgettes and mushrooms now and stir well.




6. Cover the pan and let the vegetables cook for 4-5 minutes, then add the grated carrots and bell pepper.




Saute for 7-10 minutes or till the vegetables are cooked.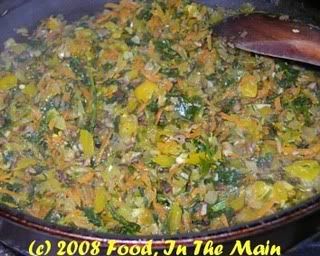 Transfer the vegetables to a big bowl and let cool.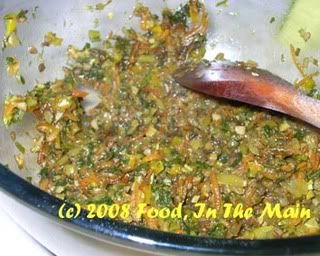 7. Then add the soy sauce and Worcestershire sauce and mix in. Add a little salt (about ½ tsp) and 1 tsp freshly ground black pepper, the chopped nuts,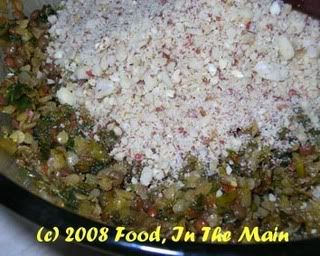 the cooked lentils




and the breadcrumbs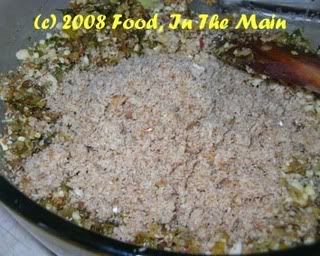 and mix it all with your hands to make a homogenous mixture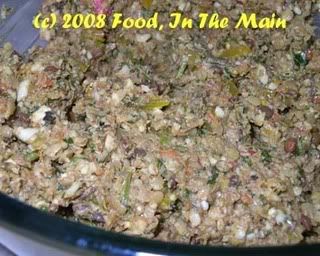 – it shouldn't be dry but also don't make it sloppy or runny, or the roast will not "set" in the oven. Also check for seasoning now and correct if necessary.

8. Pack the mixture tightly into a greased loaf tin,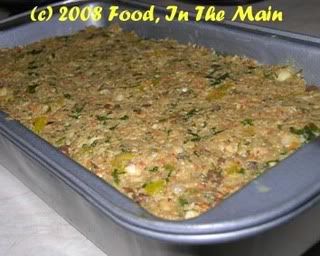 cover with foil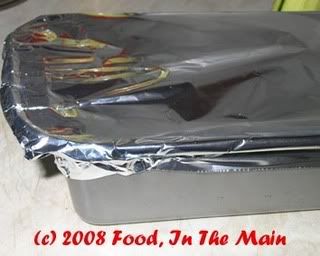 and bake for 45 minutes covered, at 180C. After that take the foil off, lower the temperature to 160C and cook uncovered for another 10 minutes. Turn the oven off and let the loaf rest for 5-10 minutes in the oven itself, before unmoulding onto a serving plate.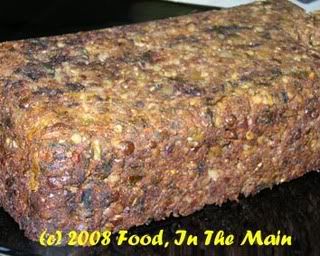 Serve thickly sliced with a selection of roasted and/or steamed vegetables.