Pal poli (fried puris in sweetened flavoured thickened milk) is one of the sweets I love - I've been wanting to make it for ever but the thought of making the milk reduction (or syrup, I suppose, for want of a better word) kind of put me off. I knew it would be a slow, time-consuming process. Even the thought of the finished pal poli wasnt enough temptation to try making it.

About the only time I take extra EXTRA trouble to cook something is on special occasions. Deepavali has to be counted among those special occasions, so my offering this year in the sweets section was pal poli. I didnt have a specific recipe as such, because (so I thought) it seemed simple enough - puris soaked in sweetened reduced milk. I knew how to make puris. I was pretty sure that simmering the milk for an hour would reduce it. How difficult could that be, right?

Well, strictly speaking, it wasnt difficult... but I made a blunder or two. I didnt know I was supposed to add some oil or ghee while making the dough, so my pal poli turned out a bit hard. Also I used whole-wheat flour rather than all-purpose or maida. So the poli didnt look particularly attractive. (Could have added some yellow food colouring but that thought didnt cross my mind when it could have been useful.) Plus I guess I didnt roll out the puris thin enough. The milk syrup was fantastic in flavour, but the poli themselves were rather leathery. Oh well, live and learn.

Recipe for:
Pal poli


Ingredients:

For the poli:

2 cups all-purpose flour (or use 1:1 wholewheat and AP)
1 tbsp oil or ghee
2-3 drops yellow food colouring (optional)
Water to make a firm but elastic dough

For the milk syrup:

5 cups milk
3/4 cup sugar (make it 1 cup if you have a very sweet tooth)
Seeds of 8-10 cardamom pods, powdered
1/2 tsp saffron strands

Oil for frying
Thinly sliced almonds/pistachios, lightly toasted, for garnish

Method:

1. Make a firm, elastic dough with the flour, ghee and water (use 2-3 drops yellow food colouring if you wish). Cover and set aside.

2. Boil the milk and sugar in a heavy saucepan, then bring the heat down to a simmer and keep cooking the milk, stirring often to prevent a skin forming.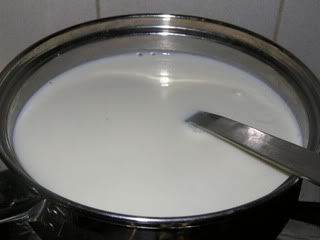 3. After about 10 minutes, add the saffron strands. Continue stirring the milk on a low simmer until it thickens and reduces to about a third in volume. (This should take about 45 minutes or so.)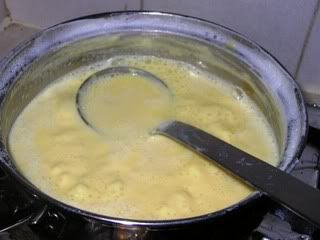 4. Add the cardamom powder and stir. Cover with cling film, with the cling film touching the surface so as to prevent a skin forming on the milk. Set aside till required.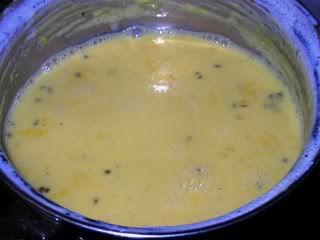 5. Meanwhile, pinch off lime-sized balls of dough and roll them out into thin round puris.

If the puris stick to the board, dip each ball of dough very lightly in some oil (pour about a tsp in a saucer - should be enough to make all the puris) and roll out. Using flour to dust the puris would make the oil cloudy while frying, and the excess flour would also burn in the oil, giving the puris an unpleasant taste.

6. Heat the oil in a pan and deep-fry the puris. Let them drain on paper towels.

7. Dip each puri in the hot thickened milk till submerged (tongs are very useful here!), fold it in half and lay it on a serving platter.




Continue till all the puris are done. Pour over any remaining milk and sprinkle with the toasted almonds/pistachios. Serve warm or chilled.