After making that fantastic smelling dhansak masala powder, the next thing to do - obviously - was use it. So I made dhansak with lots of vegetables. I tried to find what sounded like an "authentic" Parsi recipe for dhansak online, but ended up chasing dhansak recipes all over the Net, hopping from site to site until I'd wasted so much time, I finally had to resort to an amalgamation of what I remembered from all the recipes I'd read. Otherwise dinner would never have materialised. Good thing Pete was late coming back from work!




Of course, since I had made the dry dhansak masala powder, I didnt have to make a "wet" masala. I used a mix of chana and masoor dal and what's called "green lentils" in the supermarkets here. Puy lentils in other words, although I'm not really certain of that. Anyway, the last-mentioned lentils hold their shape well even when cooked and dont mush up - I like them! I guess you can use tur, urad or even moong dal, I suppose. Whatever's at hand and to your taste.

Recipe for:
Vegetable Dhansak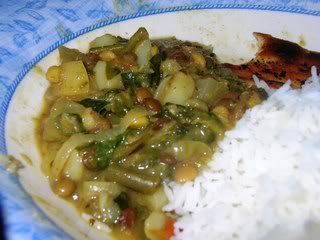 Ingredients:

1 cup mixed dals (I used chana, masoor and green lentils)
2 cups vegetables cut in medium chunks (potatoes, carrots, green beans, tomatoes)
1/2 tsp turmeric powder
1 cup fresh spinach or methi (fenugreek greens), chopped
1 large onion, chopped
1 tsp ginger-garlic paste
4-5 fresh green chillies, finely chopped or ground to a paste with the ginger and garlic (use chillies to taste or omit altogether)
1 tbsp dried fenugreek leaves (optional)
1 htsp dhansak masala powder
2 tsp oil
Salt to taste

Method:

1. Cook the dals till tender and done, not necessarily mushy, on the hob or in a pressure cooker. Drain, mash lightly and set aside.

2. Cook the vegetables on the hob with just enough water (to which the turmeric has been added) to cover, until done. Reserve.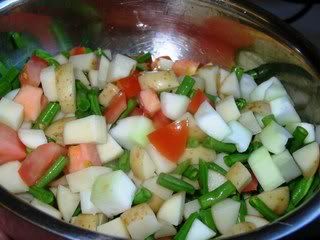 2. Heat the oil in a pan and fry the ginger-garlic paste. Add and fry the onions till they're soft and turning brown.

3. Then add the greens and stir well, sprinkle 2 tbsp water over it. Lower the heat, cover the pan and let the greens wilt, about 5 minutes.




4. Add the dhansak masala along with the vegetables and stir well to mix.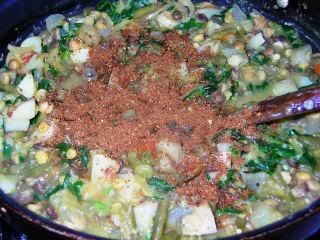 5. Finally add the cooked dals and mix in gently. Add salt to taste.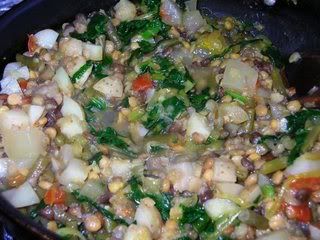 6. Let the dhansak simmer gently for 10 minutes, stirring gently from time to time. After you turn the heat off, let the dhansak sit tightly covered for a few hours, to let the flavours mellow a little. Re-heat before serving hot with with plain rice.