It's been so long (or it FEELS so long) since my last post where I asked if anybody wanted to see pics of my apricot disaster, that I bet everyone's forgotten about it. Well, I cant have THAT happen, can I? So here they are... the only thing I can say is that the photos dont look as bad as reality did! :) Better yet, there's no way of tasting/smelling the cake. Whoopee! When they invent a way to share not just photos and recipes, but smells and tastes as well, that will be the day I close down this blog - assuming I dont abandon it sooner, that is (jes' kidding *wink*).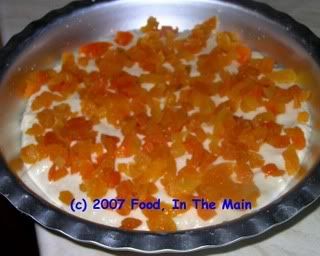 Step 1 to disaster: Chopped apricots sprinkled on top of glue batter
Step 2 to disaster: Cinnamon-flour-sugar mix sprinkled on top of chopped apricots sprinkled on top of glue batter

Step 3 to disaster: Baked cake with the cooked glue lurking underneath
Final step to disaster: TaDAAAAAH - glue cake in all its gummy glory!