If you have any leftover dosa batter, vellai appam are a fun food to make and even more fun to eat. Only works, of course, if you have the vellai appam chatti. I am the proud possessor of such a chatti, thanks to my mother.

Usually these appliances are of cast-iron, seasoned lovingly over a long time with regular use. Unfortunately I dont have the patience or the time, so this non-stick, modern version of the chatti was the perfect gift for me. The bottom is solid cast iron, but the top surface is non-stick. And because it's non-stick, you only need to add a drop or two of oil to the little depressions to turn out perfect pillowy soft appams. The traditional way is to literally deep fry the appams in their little depressions which are filled with a lot of oil... very yummy but not so good for the tummy.

The only drawback is that there's no quick way of making this for more than one person at a time - only 7 little depressions, alas. And even for that one person (me) it's a dreary job waiting for the little guys to get golden and crispy outside and soft and fluffy inside...

Dreary job, did I say? More like a never-ending wait! You have to wait for the batter to start turning opaque around the edges as it cooks, wait for the opacity to spread towards the centre and only THEN turn it over for the other side to cook... and that means another wait. It's just a few minutes, really, but it feels like eternity. And yeah, the wait is worth it.

Appams are best had with tomato thokku or coconut chutney, I guess. But I have them hot off the pan, without any accompaniments, even if it means a somewhat burnt tongue. Vellai appam... yum.

Another variation on vellai appam is to make it using wheat flour. Just as tasty, in a slightly different way!

Recipe for:
Vellai appam


Ingredients:

1 cup dosa batter
1 tsp mustard seeds
1 tsp oil (+ more to baste)
2 green chillies, sliced very thin
1 pinch of asafoetida
a few fresh curry leaves, torn into small pieces

Method:

1. Heat 1 tsp oil in a small pan. Splutter the mustard seeds in the oil (cover the pan), then add the green chillies, curry leaves and asafoetida and fry for about 30 seconds.

2. Pour the tempering over the dosa batter and mix thoroughly.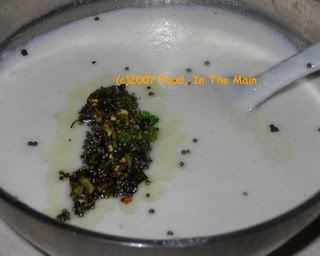 3. Heat the appam chatti on a medium-high flame and dribble a couple of drops of oil in each depression.




4. Now drop the dosa batter by the teaspoon into each depression, filling it 3/4 of the way to the top.




5. Let the appams cook over medium heat, until the batter starts solidifying around the edges, turning opaque.




6. When only the middle part of the appams is still liquidy, carefully turn over each appam with a thin skewer (or use a spoon if you can).

7. Let the appams cook for another minute or so, till they are cooked and golden-crisp on the top and bottom.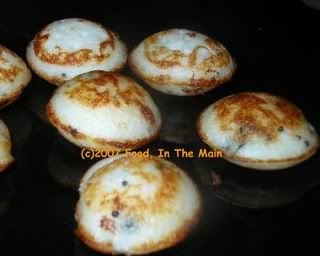 8. Serve hot, with a side dish of coconut chutney if desired.

These appams are tasty even when cold but they will lose their fluffy fresh cooked aspect.