Here's another recipe sent by a newly inducted Kiwi Gee (she's now a citizen of New Zealand) in Wellington, one that was imparted to her by a Konkani friend of hers, Gayathri. According to Gayathri, this style of doing a "fry" can be extended to other vegetables such as parval, kumara (sweet potatoes), yam, Bangalore katrikai (chayote squash), eggplant, carrot and even karela (bitter melon or gourd). It's a simple way of adding a crunchy outer layer to these vegetables. I used potatoes because - well, I like 'em, and also because I didnt have any parval handy. I hardly ever do.

In Kiwi Gee's words: "If the veggies are fresh, they would normally have to be cut, washed and then dipped in a dry mixture of breadcrumbs, rice flour, chilli powder, turmeric, hing and salt individually and then shallow fried on the tawa. But for frozen veggies which are already cut small and are moist after microwave cooking, just pour the mixture and mix it thoroughly and shake till each piece is coated."

The traditional ingredient to use is fine semolina, but dry breadcrumbs can be used instead. I can vouch for the added crunch that the semolina gave to my crispy fried potatoes - I cant imagine that breadcrumbs would do better. But feel free to try it both ways!

Recipe for:
Konkani style potato fry


Ingredients:

2 cups potatoes (with skin), cut into 1/2cm cubes
Breadcrumbs or rava (semolina) 2 tbsp
Rice flour 2 tbsp
Chilli powder 2 tsp (or to taste)
Turmeric ½ tsp
Hing (asafoetida powder) - pinch
Salt to taste
Oil – as reqd (any oil is fine)

Method:

1. Cook the veggie (whatever it is) in the microwave till it is done. (I pan-steam/fried my potatoes).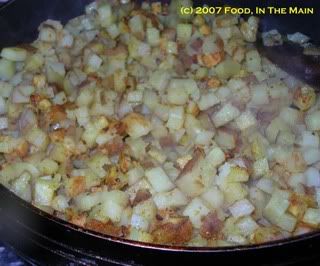 2. Then add semolina, rice flour, chilli powder, turmeric, hing, salt. (I pre-mixed it all in a bowl.)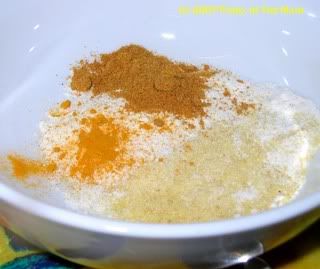 3. Toss it all (or stir gently) till each piece of veggie is coated.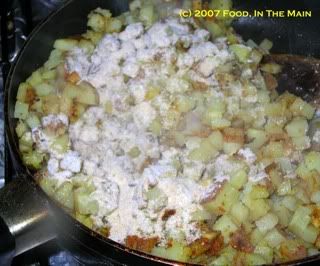 4. Heat oil in a pan and then shallow fry on medium high, turning the vegetables occasionally until they turn crisp on the outside.