There's a classic accompaniment to
vattha kuzhambu
that my mother used to make for my dad, years and years ago, when we lived in Tanzania. It's called "paruppu thogayal", a bland (in the sense of no chillies being added) chutney made of roasted tur dal. Since vattha kuzhambu isnt made with the addition of cooked tur dal, this chutney was a way of adding protein to the meal. I dont remember if I loved the chutney as much as my dad, but since my mother hasnt made it in years (since Tanzania, if memory serves me right), we kids cant have been that fond of it.

Anyway, I've never made it before nor seen how it was made, so I didnt quite know the method. I was looking for recipes using tur dal for
Linda's JFI Tur Dal event
when I came across a "tur dal thuvayal" recipe on the Net - I think it was on the ForumHub site, but for the life of me I cant find that chat link again!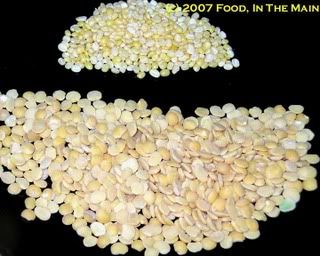 Top: Moong dal; Bottom: Tur Dal



Anyway, apart from the main item, Tur Dal, it called for red chillies, raw garlic and some moong dal - these three ingredients completely threw me off the scent, as it were. I didnt think it was a variation of the paruppu thogayal my mother used to make... until it came to grinding the roasted dal. Then the aroma instantly made itself the familiar yet long-forgotten one of paruppu thogayal.

Since I used raw garlic, red chillies and moong dal to make this chutney, it wasnt quite my mother's version. Call it a grown-up version, if you will. I cant say that I fell in love with this version any more than I did with the original... but it wasnt bad either. It's just that the roasted tur dal flavour is VERY intense. Of course this is only my personal opinion of the chutney... chances are there are people who slaver just at the thought of it! So here it is, my entry for JFI - Tur Dal.

Recipe for:
Tur dal chutney


1 tsp payatham paruppu (moong dal)
1/4 cup thuvaram paruppu (tur dal)
5-6 dried red chillies (or to taste)
3 garlic pearls
1/2 tsp oil
salt to taste
Water as required

Method:

1. Heat the oil and fry the dals and red chillies separately over a medium flame, stirring constantly.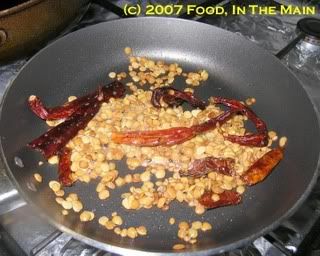 The dals should be golden brown (take care not to burn them) and the red chillies should turn darker in colour. Let cool completely.

2. Grind the fried dals, chillies, garlic with 4-5 tablespoons of water to a smooth paste.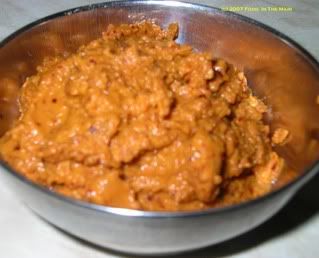 Dont worry about adding more water - the chutney solidifies quite a bit after grinding as it absorbs the water.

3. Add salt to taste and mix well. This can be served with rice and ghee or as a side with dosas or idlis.