I believe there is vattha kuzhambu powder available for purchase in some places... and I know that some people have a recipe for it. I'm not one of them. I make vattha kuzhambu like my mother does - with good old sambar powder. One thing to note - the sambar powder I use is the original stuff that I get from India, ground to a fine powder in a proper mill. I havent tried making vattha kuzhambu using MTR or GITS or any of those other ready-made varieties of sambar powder.

Anyway, in my opinion, you gotta add two kinds of dried berries to make an authentic vattha kuzhambu - marathakkalikai and chundakkai.





Clockwise from bottom right: Marathakkali, chundakkai, dried red chillies, roasted peanuts



Again, these are most likely acquired tastes. Chundakkai, especially, are really bitter if you bite into them... but I do like the overall aroma and the flavour they impart to the kuzhambu. Marathakali are much more my favourite - fried and mixed with ghee and rice, they're really rather yummy. Better yet, they're also supposed to be good for you. For cleansing the blood, or something like that. Okay, I really need to find out more about them. Watch this space.

Because vattha kuzhambu is not made with any significant amount of dal, South Indians get their protein by pairing it with paruppu thogayal - somewhat like hummous, but made with tuvar dal and bengal gram dal, rather than cooked chickpeas. It's usually bland. I havent had it or made it in years, to tell the truth, because I personally prefer to make
beans or cabbage paruppu usili
as an accompaniment. Keerai (spinach) is another good side-dish for this kuzhambu.

Recipe for:
Vattha kuzhambu


Ingredients:

1 tsp tamarind paste, dissolved in 4 cups warm water
2 tsp sambar powder
1 tsp tuvar dal
1-2 tsp dried marathakkali berries
4-5 dried chundakkai
10-12 fenugreek seeds
1 tsp mustard seeds
2 dried red chillies, broken in half
1/2 tsp red chilli powder (optional)
3/4 tsp freshly ground black pepper
2-3 tsp oil
4-5 curry leaves
pinch of asafoetida
2 tbsp roasted de-skinned peanuts
1 tbsp rice flour or cornflour (for thickening the gravy if required)
Salt to taste

Method:

1. Heat the oil in a pan and fry the dried berries for 30 seconds or so.

2. Add the asafoetida, dry red chillies, curry leaves, mustard seeds, fenugreek seeds and tuvar dal to the oil and stir. Fry till the mustard seeds pop and the tuvar dal turns golden brown. The berries should be dark brown now, but be careful that they dont burn.

3. Add the sambar powder, ground black pepper and red chilli powder (if using) and stir. Then pour in the tamarind water.

4. If you are using the peanuts, drop those in as well and let the tamarind water boil for 15-20 minutes or until it has reduced by a third.

5. Mix the cornflour/rice flour with some water to make a pourable paste, and stir it into the kuzhambu. Add salt to taste.

6. Boil it for another 5 minutes, until it is the consistency you like.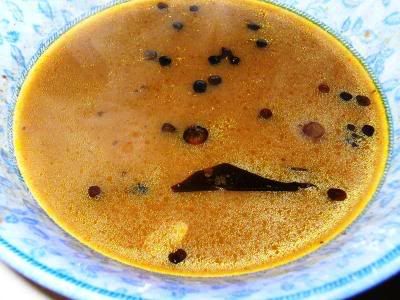 7. Serve hot with steamed rice, keerai and paruppu usili or - for an extra special touch - pan-fried potatoes Indian style.