Looks like the next few posts are going to be mainly "empty the fridge" types, as I'm off to India next Tuesday, for a fortnight.

Today, as the first of the use-'em-up recipes, I made an impromptu side-dish using one of the two bunches of spinach that were wilting quietly in the fridge. Two red onions, two tomatoes, half a cup of cubed paneer and a few spices and condiments later, there it was - a healthy side-dish to go with the methi (fenugreek greens) chapatis that we had for dinner.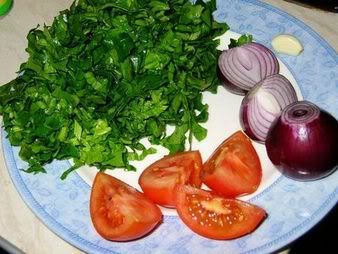 Recipe for:
Paneer palak subji


Ingredients:

Fresh spinach - washed, drained and chopped - 4 cups
1/2 cup paneer, cubed
2 onions, sliced thinly
1 tomato, chopped
2 cloves garlic, slivered
1/2 tsp ginger root, grated
1/2 tsp fresh ground pepper
2 fresh green chillies (as per taste), sliced thin
OR
1/2 tsp chilli powder
1 tsp cumin seeds
1/2 tsp garam masala
Salt to taste
3 tsp oil

Method:

1. Heat 1 tsp oil in a pan and stir-fry the paneer till the cubes turn reddish-golden. Remove from the heat and reserve.

2. In the same pan, heat the remaining oil. Add the ginger root, the garlic, cumin seeds, chilli powder/green chillies and fry for about 30 seconds, till the cumin seeds turn brown and aromatic.

3. Now add the salt, garam masala, ground pepper and the sliced onions. Fry till the onions start becoming soft.

4. Add the chopped tomato and fry for a minute.

5. Finally add the spinach and sprinkle two tbsp water and cover the pan. Lower the heat and let the spinach wilt for 4 minutes or so.

6. Stir the contents so the spinach and onions are well mixed, then add the fried paneer. Add 1/3 cup water, stir and simmer the subji on medium heat for another 3 minutes or so, until the spinach is cooked.




7. Serve hot with a dollop of cream or Greek yogurt, as an accompaniment for rotis/parathas.