This masala powder is very aromatic and keeps for a few months if stored in an airtight jar. The measures I'm giving here makes enough powder to use twice, but the amounts can easily be increased proportionally to make more.


Clockwise from the top: Urad dal, cinnamon stick, fennel seeds, chana dal, coriander seeds, cumin seeds. Centre (from left): Cloves, cardamom pod, black peppercorns

Recipe for:
Masala powder for carrot rice


Ingredients:

2 tsp urad dal
2 tsp chana dal
2 tsp coriander seeds
1/2 tsp cumin seeds
1/2 tsp black peppercorns
1/2 tsp fennel seeds
1/2 inch stick cinnamon
2 cloves
1 cardamom pod
2 dried red chillies
5-6 curry leaves
1 tsp oil

Method:

1. Heat the oil in a pan and add all the items. Fry on medium heat, stirring frequently, until the dals turn golden and aromatic.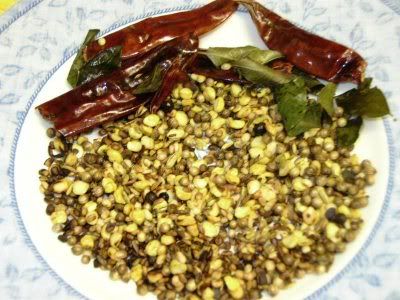 2. Let cool completely, then grind to a fine powder in a spice or coffee grinder. Store in an airtight jar for upto 6 months.