My version of it, anyway. I wonder how the bakeries manage to get that lovely baton shape... perhaps they have special baton-shaped bread tins? My French bread flattened itself almost like a ciabatta loaf, so perhaps the dough was looser than it ought to have been, making it lose its baton(ish) shape once the final proofing was finished with. I don't know. Perhaps I never WILL know (although I'm hoping that won't be the case... after all, there are thousands of bakers out there, and perhaps one of them will kindly enlighten me. I live in hope).

But the thing is - even if no kindly baker happens along to throw light on the subject, I won't mind. The truth is I don't really care that my batons could more accurately have been called 'flat'ons. Because, people, my flat French bread tasted FABUTASTIC! I've no idea if I can repeat the feat. I honestly don't know how it managed to be so good. I'm half afraid to try again, in case it doesn't turn out as well as this, my first attempt - the crust so crackly to the bite yet not rock hard, the inside so soft and white, and the whole loaf smelling of yeasty warmth... slathered with butter for the first bite - mmmm!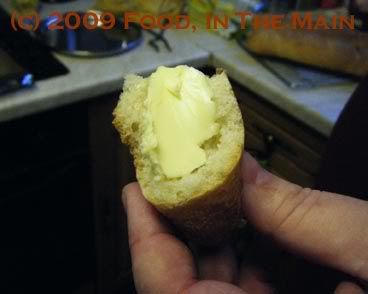 I do not exaggerate when I say that this bread disappeared quicker than anything I've ever made. While the loaves were cooling (and while I fended the ravening hordes off to take a couple of photographs), Pete heated up some soup, and by the time the bread had cooled down enough to be sliced, the soup had been served up in bowls and the kids (the big one included) were standing there holding out the bowls like three Oliver Twists, waiting for the bread.

Oh, the French bread was such a success, and I felt so very, very thrilled... (the original recipe was from
here)


Recipe for:
French bread




Ingredients:

2-1/2 tsp dried yeast, for hand baking (the kind that has to be reconstituted in water before use, not instant yeast)
1-1/4 cups warm water (slightly more than hand-warm, about 40C)
1/2 tsp. sugar
3 cups strong bread flour
1-1/2 tsp salt

Ingredients:

1. Place water in a large bowl and sprinkle with yeast and sugar. Swirl to help dissolve yeast.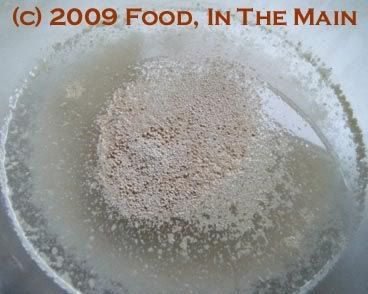 Let it stand for 5-10 minutes, or until the yeast dissolves and starts to bubble.

2. Stir in 1 cup flour. Cover and let rise for 1/2 hour till bubbly.




3. Then gradually stir in the remaining flour and salt




to make a soft dough.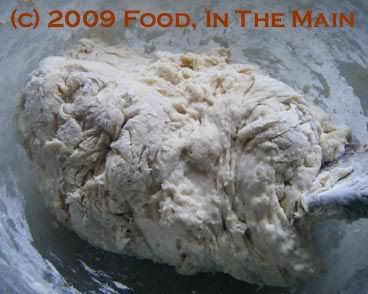 5. Turn the dough out onto a floured surface and knead for 10 minutes.




6. Grease a large mixing bowl with 1 tsp oil, and place the dough in the bowl. Turn it in the bowl so the dough is greased.

7. Cover the dough and let rise in a warm place for about 2-1/2 hours, until double in volume.




8. Now punch down the dough,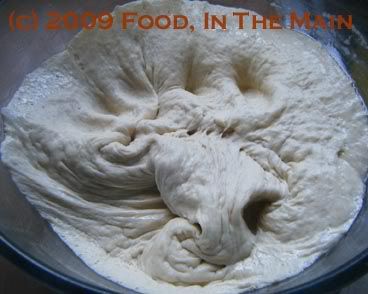 divide in half and place one half on a lightly floured surface.

9. Form it into a cylinder shape and roll it back and forth until it becomes about a foot long or so, tapered a bit at the ends to make French bread shape.




Do the same with the other half of the dough.

10. Grease a baking tray and sprinkle with cornmeal.

11. Quickly transfer the dough on to the prepared sheet.




Cover with greased cling film and let rise at room temperature until doubled, up to about 1-1/2 hours.




12. Preheat the oven to 220C. Make 3-4 slashes across the top of each loaf.




Bake the loaves for 20-25 minutes or until they are golden brown. (Tap the bottom - if the loaves sound hollow, they're done.)




13. Remove from tray and let cool on wire rack.