The nice thing about this bread-and-butter pudding is that it needs only 1 tbsp sugar – the natural sweetness of bananas, sultanas and currants more than suffices, especially for those without a sweet tooth the size of Ayers Rock. And if you don't wish to use even that 1 tbsp sugar (mainly to sprinkle on top, for caramelisation purposes), well, this becomes an entirely processed-sugar-free recipe. Not bad for a dessert, is it? Serve this pudding with sugar-free or low-sugar icecream, or light cream, and the sin points still wouldn't add up as much as from, say, a slice of frosted chocolate cake with cream.

Pete, as usual, doesn't like desserts which combine eggs and milk – even if the end result isn't as custardy as custard-from-scratch. To his credit, he did try a spoonful of this banana bread-and-butter pudding and pronounced it "very tasty"… but it still didn't encourage him to go for a separate portion of his own. Which is okay, because I'll get to have this over the next 4 days. It makes for a pretty small(ish) pudding – three reasonable servings, or four small ones, or two large greedy ones. All without the addition of icecream, that is.

It would be best to use slightly overripe bananas in this recipe, as there is no extra sugar added (worth saying again, I think!). Served warm, this pudding is really rather nice on a cold evening.
Recipe for:
Banana bread-and-butter pudding




Ingredients:

4 slices bread
1 tbsp butter
3 tbsp sultanas
3 tbsp currants
1 large ripe banana, sliced
1 tbsp demerara sugar
1 tsp vanilla extract
1 egg
1 cup (225ml) milk

Method:

1. Beat the egg and milk together with the vanilla extract. Reserve.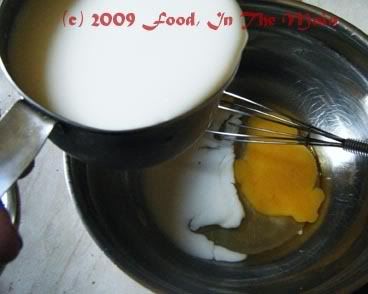 2. Cut the crusts off the bread.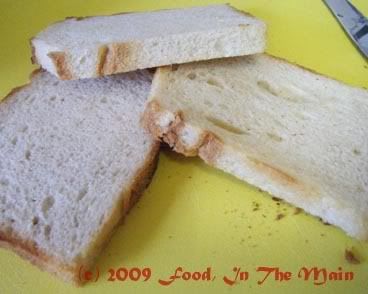 3. Lightly butter one side of each slice and cut each slice into four.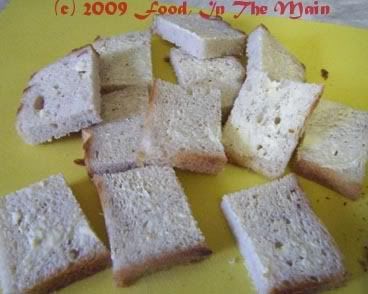 4. Mix the sliced bananas with the sultanas and currants.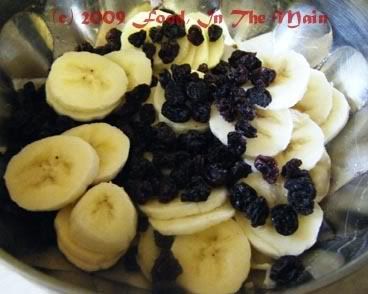 5. Butter a 1-litre baking dish lightly. Arrange half the pieces of bread, buttered side up, in the bottom of the baking dish.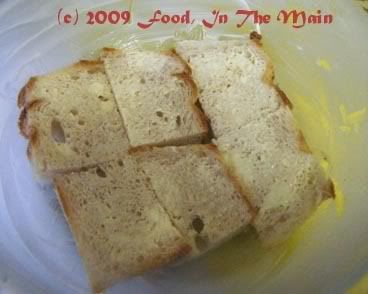 6. Spoon half the banana-sultana mix over the bread.




7. Pour half the milk mixture over this, making sure to cover all the bread. Sprinkle 1/2 tbsp demerara sugar over.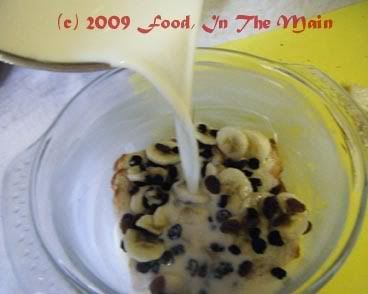 8. Layer the remaining pieces of bread, buttered side up again,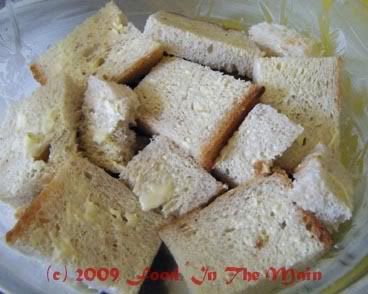 then the remaining banana slices,




and pour the rest of the milk over.




Sprinkle the remaining 1/2 tbsp of demerara sugar over the top.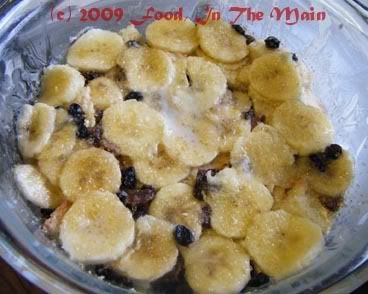 9. Press down gently and evenly to make sure that the bread pieces are all covered by the milk. Allow to soak for at least 30 minutes in the fridge.

10. Heat the oven to 180C and bake the pudding for 30-40 minutes or till the top layer of banana pieces are caramelised and the bread turns golden brown.




11. Serve warm as is, or with ice-cream or cream, if preferred.