I'm sure everybody has an inner lazy person, but for most people, they stay firmly anchored on the inside. Whereas, with me, my inner lazy person has always been keen to remain on the outside and experience everything that comes my way. Occasionally my brisk and hard-working persona makes a visit to the outside, but on the whole those are rare occasions and the brisk inner me prefers to remain unseen. Come to think of it, perhaps the brisk inner me is actually the lazy inner me. Intriguing....

Or possibly not.

Anyway, grains and legumes that don't need pre-soaking before use are excellent for the lazy cook (inner or outer persona, whichever), which is why whole green gram dal is a favourite with me. I feel it's a homely sort of dal, and I've not seen it on many party menus or dinner menus for guests. There's not much to making this dal, but only if you have a pressure cooker. Then it is a doddle. Since I haven't bothered to cook whole green gram dal on the hob by boiling, I've no idea how long it might take. (I don't like the idea of wasting fuel cooking most dals, legumes or beans by boiling, when I have a trusty pressure cooker that does the job in a jiffy. The few exceptions are quick-cook dals like split masoor or chana dal when I don't want them mushy.)

The basic recipe I use for making this dal is just that – basic. Throw a couple of chopped tomatoes, chillies, garlic along with ½ cup green gram dal into a vessel, add water to cover, and pressure-cook for 3-4 whistles. Then it's just a question of doing the tadka or seasoning, with or without fried onions, and voila! the dish is finished and ready for consumption.

This time too, I used the basic recipe to cook the dal, but upped it a notch by making a wet coconut masala for the seasoning. It tasted just fine... but I still would probably not consider this a dish for special occasions. It's more an everyday dal with not much exotic about it. For Indians, at any rate.


Click here for another recipe using green gram dal


Recipe for:
Green gram dal - 2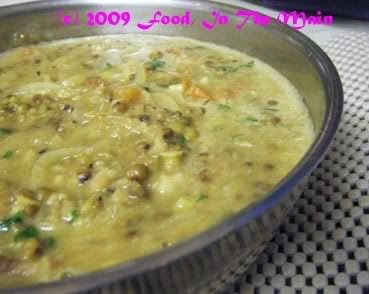 Ingredients:

1/2 cup whole green gram dal
2 medium tomatoes, chopped
3-4 green chillies (or to taste), slit
2 cloves garlic, chopped
2 medium onions, sliced thin
2 htbsp fresh coconut, grated
1 tsp coriander seeds
1 tsp cumin seeds
1/2 tsp garam masala
1 tsp oil
Salt to taste
Fresh coriander leaves, chopped, for garnish
1-1/2 cups water

Method:

1. Grind the coconut, coriander seeds and cumin seeds to a fine paste using 3-4 tbsp very warm water. Reserve.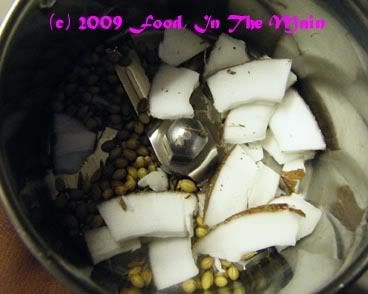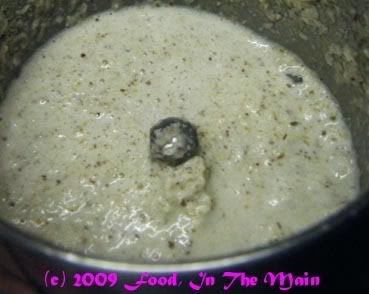 2. Place the uncooked green gram, chopped tomatoes, slit chillies and garlic in a vessel and cook in a pressure cooker for 3 whistles. Remove when pressure drops naturally.




3. Heat the oil in a pan and fry the sliced onions till they turn soft and translucent.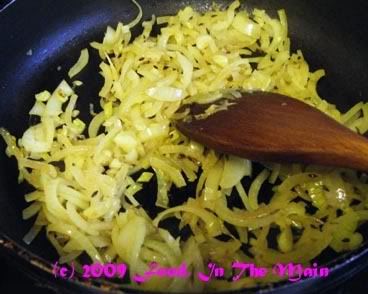 4. Add the cooked green gram dal mixture along with 1/2 cup water (add more if there isnt much moisture in the cooked dal) and stir well. Add salt to taste along with garam masala and bring the mixture to a gentle simmer. Cook for 3-4 minutes.




5. Now add the ground coconut masala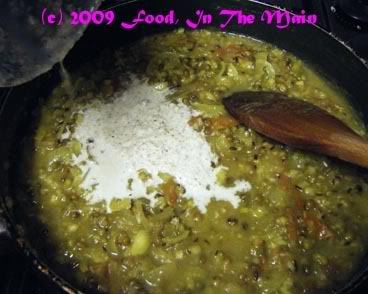 and stir it in.




6. Simmer the dal for 3-4 minutes more (don't boil it), then add the chopped coriander.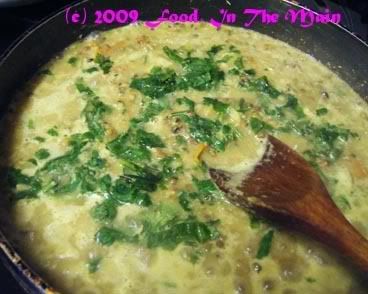 7. Serve hot with chapaties or over plain rice.