I have the food blog world to thank for this recipe – not any blog in particular, but quite a few of them that featured recipes for chutneys/thogayals made without coconut and yet – and this is so very important – tasting really, really good. Before these blogs, the only non-coconut chutney/thokku/thogayal recipes that I had heard of, or ever made, were onion chutney and tomato thokku.

Actually, I tell a lie. In the interests of truth, I will have to admit that I knew of a third such coconut-free thogayal, made with roasted aubergine/brinjal. This is something my mom used to make specially for my dad. I have eaten it before, years and years ago, but even then only with extreme squeamishness.

Anyway, we won't talk about it any more because in my world, aubergines fall in the same category as slugs and snails in terms of food – in other words... yuuurrrrgh! (Regular readers will know this anyway, so I excuse my mentioning my aubergine-phobia yet again on the barely conceivable grounds that a random new reader just might chance upon this very post as their first one on my blog – and wouldn't it be tragic if they were to go away, very likely forever, without knowing this important fact about me? See? That's why.)

So, back to happier, tastier things... those thogayals that I would never have thought to make with vegetables that I would not have imagined using, if not for all those lovely food bloggers – vegetables like chow-chow, bell pepper, carrot (carrot!), beetroot, and so on. I cannot thank the food blog world enough for these revelations.

Now, on to the chutney that I made a couple of days back – with slow-roasted yellow bell peppers, tomatoes, garlic and onions as the vegetable base. I added sesame seeds and a couple of tablespoons of roasted peanuts to thicken the chutney and give it a bit of texture along with a gentle nutty taste. I don't like adding peanuts with gay abandon in thogayal/chutney because then the whole thing turns into a weird sort of peanut butter, rather than a chutney. It's just me, I guess, but somehow that doesn't seem right.

If you don't have an oven, don't worry. The chutney will taste just as good with the vegetables roasted/cooked on the hob. I oven roasted mine only because I was in no hurry, and because I was slow-roasting a lot of tomatoes anyway.

Recipe for:
Roasted bell pepper, tomato and peanut chutney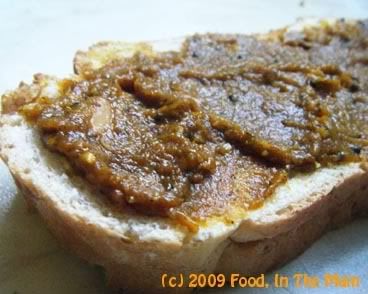 Ingredients:

2 big yellow bell peppers
3 medium tomatoes
1 large onion
4 garlic cloves
10-12 dried red chillies (or to taste)
Fresh curry leaves, about 20 (optional)
1/2 tsp tamarind paste
2 tbsp roasted peanuts
1/4 tsp asafetida powder
1 tbsp black sesame seeds (can use white too)
1 tsp urad dal
1 tsp mustard seeds
Salt to taste
4 tsp oil

Method:

1. Deseed the bell peppers and cut into quarters. Cut the tomatoes lengthwise in half, then in half again to make four wedges. Peel and chop the onion in large pieces. Remove the skin from the garlic.

2. Toss the vegetables with 1 tsp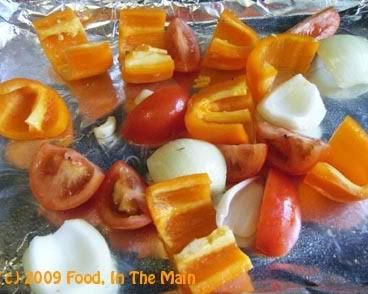 oil and roast in a 160C oven for about 1-1/2 hours (stirring the vegetables after 45 minutes and removing the garlic). (Or if cooking on the hob, heat the oil and stir-fry the vegetables on high heat till well softened and lightly charred.)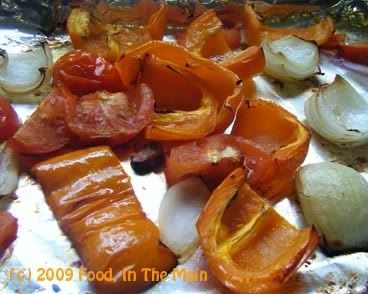 The peppers and onions should be lightly charred, the tomatoes semi-dry.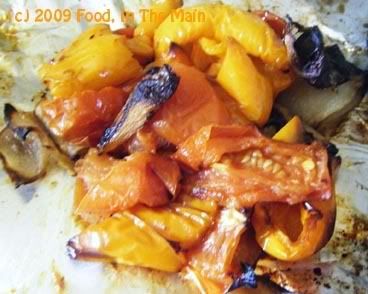 Let cool.

3. Heat 1 tsp oil in a small pan, add the asafetida powder, dried red chillies, sesame seeds and about 10 curry leaves.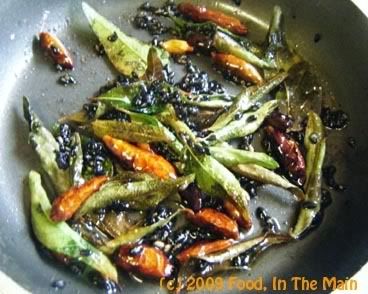 Stir till the chillies turn a darker colour, about 30 seconds.

4. Grind the roasted vegetables to a smooth paste along with the red chillies, sesame seeds, curry leaves.




Add the 2 tbsp roasted peanuts and then grind again -




you can leave the peanuts a little chunky if you like.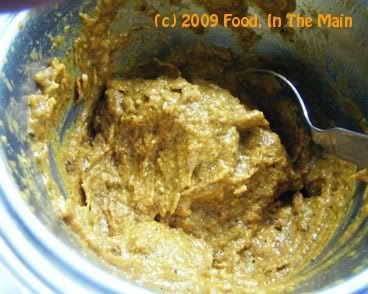 5. Heat the remaining 2 tsp oil in a pan. Add the remaining curry leaves, mustard seeds and urad dal




and stir-fry till the dal turns a pale golden.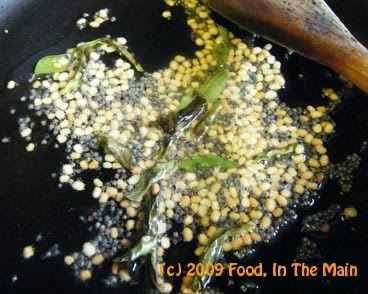 6. Turn the heat down to medium and add the ground bell pepper mixture along with 1/4 cup water and salt to taste.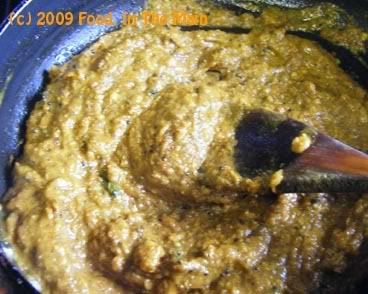 Cook this for 2-3 minutes, stirring well, until the chutney comes to a slow, gloopy bubbling boil. Turn off the heat and let it cool before transferring to a clean glass jar.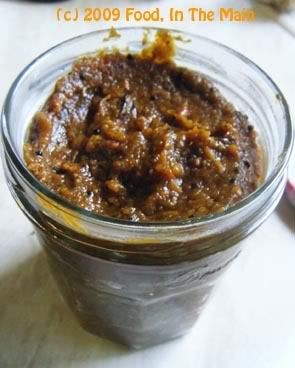 Serve with dosa, roti, idlis, etc, or use as a spread on toast, or as a sandwich filling, or even mix with cooked rice.

Store in the refrigerator.