There was a small surprise in my garden when I got back from a holiday in Croatia – slightly over half a dozen little strawberries on a plant that I didn't even know I had (I thought they had all died over the winter), which had survived in a small clump of nettles. Picking those strawberries was an exercise in caution, because nettles are nasty plants, raising painful welts if they touch my skin. And no, dock leaves don't do much good – remember that Enid Blyton statement where, according to her, dock leaves and nettles grow nearby each other because the former help soothe the stings of the latter? Well, I'm here to say that one half of that is true – dock leaves CAN be found near nettles but they aren't much help with the stings. Not for me, anyway.

I was surprised that the birds and insects hadn't got to the strawberries, because they certainly looked ripe and red (the berries, that is - not the avian and insect life). But when I tasted one of the berries, it was quite sour. Not much fun eating those unless drowned in sugar – and not worth doing that for half a dozen strawberries.

So I decided to make a strawberry cake with them – adding a few more strawberries which were going cheap at the supermarket and which, therefore, I had bought. For no real reason I decided to make it a loaf cake – I like slices of cake rather than chunks, I suppose.

The texture and taste of the cake were perfectly fine, but since I had used pureed strawberries in the batter, I was expecting a flavour more redolent of strawberries than was the case. The flavour came through better on the second day, however. I also was hoping for a more pink cake, but I guess the whole wheat flour made the batter more brown than pink. I would have happily improved on Mother Nature by using some red food flavouring in the batter to "pinken up" the cake… it was just a pity I didn't have any!


Recipe for:
Strawberry-vanilla loaf cake




Ingredients: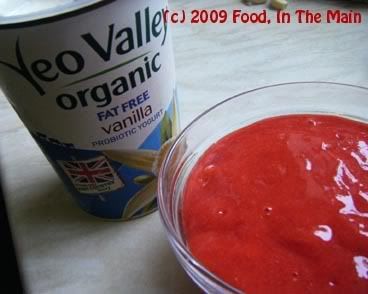 1 cup pureed strawberries (depending on size, between 10 and 20)
3 tbsp butter, softened
1/4 cup non-fat vanilla yogurt
3/4 cup sugar
2 eggs
1 tsp vanilla
1/4 tsp salt
1/2 cup wholewheat flour
1-1/2 cups all-purpose flour
2 tbsp chopped walnuts, almonds or pecans (or a mixture)

Method:

1. Combine butter, yogurt and strawberry puree in a large bowl. Mix well.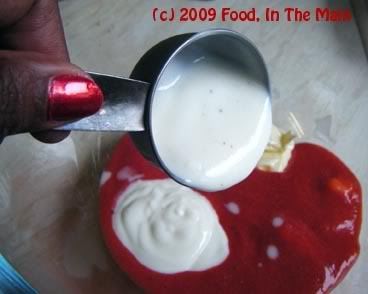 2. Add eggs, vanilla, sugar, salt, baking powder and baking soda and stir well.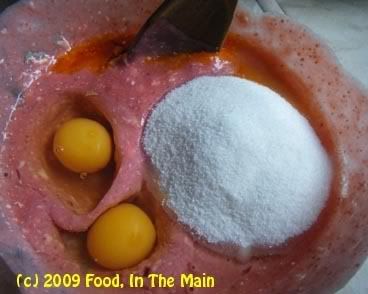 3. Add the flours and stir/fold in lightly until combined.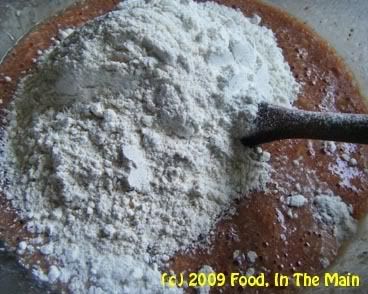 4. Spray a 1-1/2 pound loaf pan with Pam or grease lightly with oil. Pour the batter in the prepared pan, level it with the back of a wet spoon,




then sprinkle the chopped nuts on top.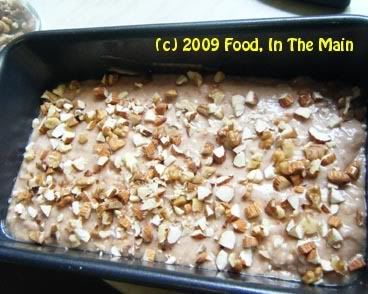 6. Bake in an oven at 180C for 40-50 minutes or till done (I start checking at the 30-minute mark).

7. Let the loaf cool in the pan for 5 minutes,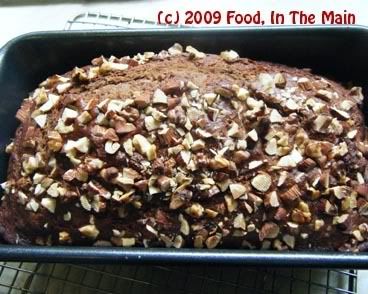 then turn carefully out onto a cooling rack and let cool completely.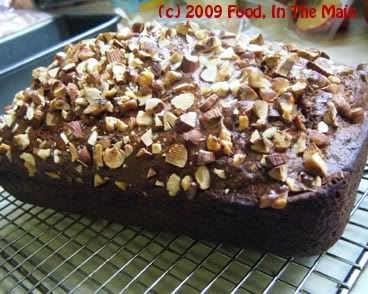 8. Serve sliced as is,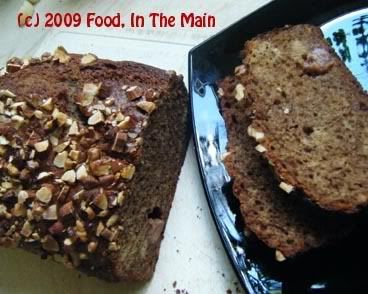 or warm it slightly in the microwave and serve with strawberry compote and whipped cream.