Some days, when I'm very nearly out of ideas as to what to make for dinner for the two of us, and when that coincides with not having very much in the fridge to work with and I'm staring around the kitchen looking for inspiration, I'm always happily relieved when the cardboard box of eggs eventually comes into focus (I'm very capable of looking straight at something without seeing it, much to Pete's amusement or irritation, depending on his mood).

Eggs aren't the first thing that come to my mind in a culinary fix, simply because I'm not used to thinking of them as actual food. I mean, of course I use them, but usually in cakes. It's a rare thing for me to cook eggs for a meal - especially my meal. So when I suddenly remember them, it's always with a sense of pleased relief ("How clever of me to remember the eggs!") . Because once they're boiled, eggs are ready to be thrown - not literally, unless cleaning the hob and your clothes is your hobby - into any sauce you wish to conjure up.

And that is what I did recently.

Recipe for:
Eggs in tomato-cashewnut gravy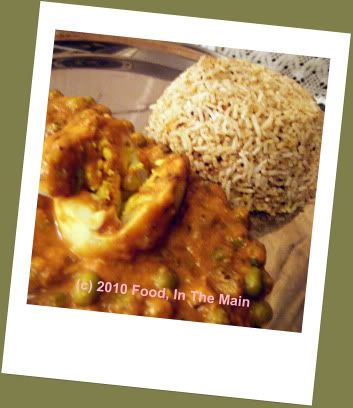 Ingredients:

4-6 eggs, hard boiled and shelled
10 cashewnuts
1 tsp ginger, grated
2 small onions, sliced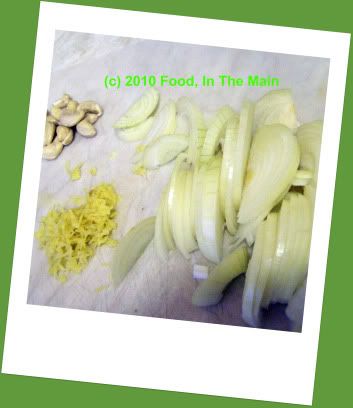 1/2 cup frozen green peas
1 cup smooth sieved tomatoes (I used readymade thick tomato pulp)
1-1/2 cups milk (I used semi-skim)
1 tsp cumin seeds
2 htbsp kasoori methi (dried fenugreek leaves)
1 tsp red chilli powder (optional, as per taste)
1/2 tsp turmeric powder
4 tsp oil
salt to taste

chopped coriander leaves for garnish


Method:


1. Heat two tsp oil in a small pan, add the ginger, cumin seeds and cashewnuts and fry them till the cashew nuts turn a light brown.




2. Add the sliced onions and cook till they begin to turn soft.




3. Add 1/2 cup milk and cook till the onions are done. Cool, then grind to a thick paste.




4. In another pan, heat the remaining oil and add the turmeric powder. Add the boiled eggs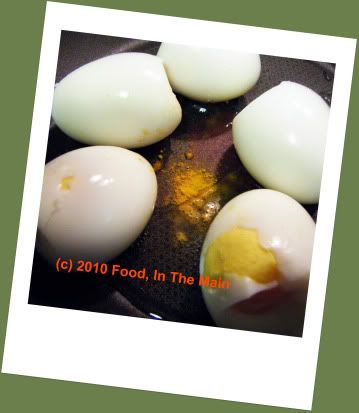 and fry them, turning them gently every now and then, till the eggs are slightly blistered all over. Remove the eggs from the pan and set aside till required.




5. In the same pan, add the tomato pulp.




6. Add the kasoori methi and the red chilli powder (if using) to the pulp and let it cook for 2-3 minutes.




7. Now add the frozen peas along with 1/2 cup water,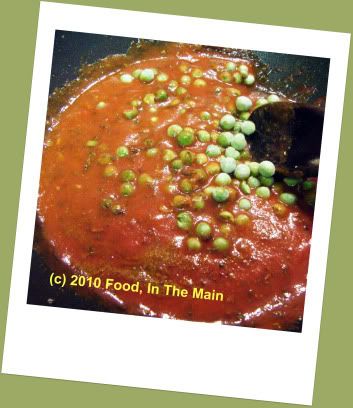 and cook them covered till done.




8. Now pour in 1 cup milk along with the onion-cashewnut paste and mix it in well. Add salt to taste. Let the gravy simmer for 5-7 minutes till it thickens to the consistency you like.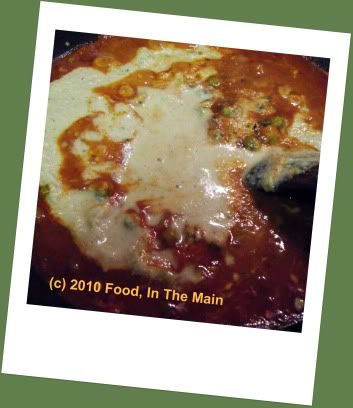 9. Add the reserved eggs (I made four vertical slits in the eggs) to the gravy and simmer for a few more minutes, spooning the sauce over the eggs.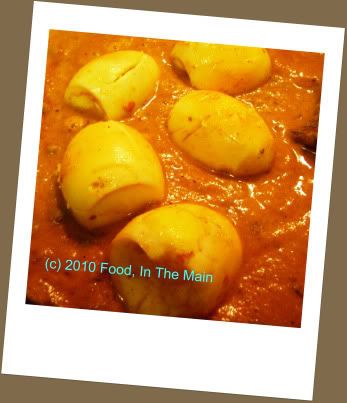 10. Sprinkle the coriander leaves over, and serve hot with rotis or rice.