I love my local "Indian" shop in Wellington. Del, the owner, is a really nice man with a great sense of humour and enough knowledge of rugby to engage with Pete. Plus, he keeps adding new products, especially in the fresh frozen section. I might not get a wide variety of fresh and exotic vegetables there, although most of the Indian staples are easily available, but there's plenty in the frozen section to keep me happy.
Like the fresh frozen black eyed beans that I bought the other day. (I also bought a couple of bags of some type of mystery greens, but that's another story.) I guess my foodie friends will understand when I say that my cup of happiness ranneth (new word!) over when I saw the fresh beans and green chickpeas in the freezer section.
I made a curry the same evening with the black eyed beans - really tasty it was, too. I won't say that it will rock your world, although it should. (Mine wobbled a bit on its axis.)
Recipe for:
Blackeyed bean curry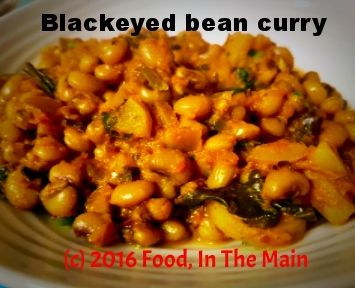 Ingredients:
2 tsp oil
2 cups fresh frozen blackeyed beans
1 medium potato, sliced into strips
3 large tomatoes, chopped fine
1 large onion, chopped fine
3-4 green chillies, minced (or to taste)
1" piece ginger, grated
2 cloves garlic, minced
1/2 tsp coriander powder
1/2 tsp cumin powder
1 tsp Kitchen King masala (or garam masala)
1-2 cups water
1/4 cup yogurt
Salt to taste
Juice of half a lime
Coriander leaves for garnish
Method:
1. Heat the oil in a saucepan and add the onion, green chillies, ginger and garlic along with the coriander and cumin powder. Mix well and fry on medium heat for 2-3 minutes, stirring frequently, until the onion starts to soften.
2. Now add the chopped tomatoes and sliced potatoes and stir-fry for 4-5 minutes. Add the frozen blackeyed beans, pour in a cupful of water and bring the mixture to a boil. Then cover the pan, turn down the heat and let the beans cook for 10 minutes. Stir once in a while so that the masala does not burn. Add a little more water if required.
3. Once the potatoes and beans are cooked, and the sauce is thick, stir in the yogurt over medium heat. Do not let it boil after adding the yogurt. Add salt to taste and mix it in, then the lime juice. Turn off the heat, sprinkle the beans with the chopped coriander and serve hot with rice or chapaties.