Salads aren't my most favourite food, if I am to be honest. Seeing a recipe for salad on anyone's blog doesn't usually float my boat. So I don't expect this simple recipe to turn the Internet's head and send millions of unique visitors my way. But it really was a refreshing salad when I ate it yesterday, and I thought it worthwhile to make a post of it. The best part was that the apples were from my own little container tree, which has done rather well this year. i think I got about 20 apples from it, all told. It's only got two branches!

I had picked a couple of apples to see if they were edible or whether I would have to make an apple crisp or cake, because last month when I tried one, it was much too sour to make pleasant eating. (I made a cake with the apples then). They are meant to be eating apples, you see. But this time they were perfect, beautifully juicy and sweet with the right amount of tartness. Really lovely. Why I fancied a salad using the apples, I have no idea. I don't usually want a salad for dinner. But I had also picked some mint too, and I wanted to use that. So here it is. I can assure you that the salad is refreshing and I really enjoyed it. It is not any more exciting than that, unfortunately.

No wait, that's not quite true. There was SOME excitement while I was slicing the vegetables - I used a mandoline to make wafer-thin slices, and it was so viciously sharp and efficient at its job that I found I had sliced a bit off the side of my forefinger before I knew it. I cursed a bit and ran cold water over my finger, then went back to the mandoline. And it happened AGAIN, this time to my thumb. It was painful, but at least I can claim that I put myself into my salad. You don't have to do the same, though. I'm sure the salad would taste just as nice without the blood, sweat (metaphorically speaking) and tears.

Recipe for:
Apple, cucumber and carrot salad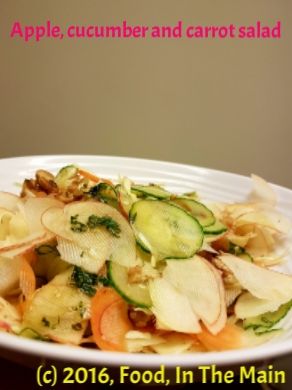 Ingredients:

2 medium eating apples
1 small cucumber
1 medium carrot
2 tbsp walnuts
handful of Chinese cabbage or lettuce, shredded very fine

For the dressing:
1 tbsp lime juice
1 tbsp olive oil
1 tbsp very finely chopped mint
1 tbsp honey
1 tsp apple balsamic vinegar
Salt to taste

1. Slice the cucumber, apples and carrot very thinly (I used a mandoline).

2. Whisk together the ingredients for the dressing. Adjust the taste to your requirement.

3. Mix the salad vegetables together, then add the dressing a little at a time - you may not require all of it, so go easy. Sprinkle the walnuts on top and eat immediately.