The first time I introduced paneer to Pete, I didnt tell him what he was eating. I just served it up for our dinner and waited for his reaction which, after a few thoughtful bites, was a puzzled: "This is yummy. Is it chicken? How did you mask the chickeny taste? Hey, are YOU eating chicken!?!" Nope I wasnt, I told him gleefully. He was eating - ta-DAH! - Indian cheese. Paneer, to be precise. Since then, I've made various paneer dishes and he's loved all of them.

And tonight, he asked if I could make something with paneer for dinner. That coincided rather nicely with my decision to use up the ready-bought 250gm-pack of paneer that was a bit past its best-by date. So tandoori paneer found itself on the menu, along with green peas pulau. And it was a very creditable success. The tandoori paneer turned out gorgeously crisp on the outside, its ginger-garlic marinade cut deliciously by the fresh lemon juice, and succulently soft on the inside.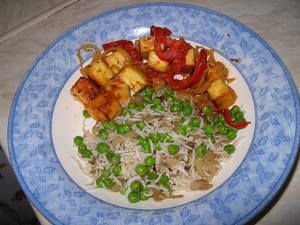 I dont know if this recipe would work as well on home-made paneer, because you really cant get it as firm as the store-bought stuff. But there are plenty of other recipes perfect for the softer texture of home-made paneer... I guess we'll be seeing some of those in future posts.

Recipe for Tandoori Paneer and Green Peas Pulau (to serve 2 persons):
Tandoori Paneer

Ingredients:

250gm firm paneer, cut into one-inch cubes
1 red bell pepper, deseeded, cut in thin rings
1 medium onion, cut in thin rings
1 tsp cooking oil
1/2 tsp salt or to taste


For the marinade:
2" piece fresh ginger
2-3 cloves of garlic
1-2 fresh green chillies, or to taste
2 tbsp fresh lemon or lime juice
1 tsp cumin seeds
1/2 tsp salt or to taste
Couple of drops of red or orange food colouring - optional. (I used 2 tsp of paprika to add a bit of colour.)
Pinch of ready-bought tandoori or chaat masala, for garnish - optional

Method:

1. Grind all the items for the marinade in a spice or coffee grinder to a paste.

2. Put the paneer pieces in a shallow dish and pour the marinade over, reserving a tsp of it. Turn the paneer pieces gently with your fingers until the pieces are more or less coated with the marinade.

3. Set aside for about an hour, minimum.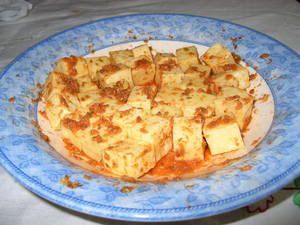 4. About 10 minutes before you want to serve the paneer, heat up the grill in your oven. Arrange the marinated paneer pieces on a greased tray or rack and grill, turning once or twice, until the paneer begins to turn golden on the surface.

5. While the paneer is grilling, heat 1 tsp oil in a wide frying pan and add the reserved teaspoon of marinade. Fry this for a few seconds, then put in the onion rings.

6. After about 4 minutes, add the bell pepper rings to the onion and cook the mixture for 3-4 minutes longer, or until the onion is translucent and the bell pepper is slightly wilted.

7. Toss the tandoori paneer with the bell pepper and onion mixture, and serve hot.

Green peas pulau

Ingredients

1 cup basmati rice, cooked al dente
1 cup green peas, cooked (fresh is best, frozen is ok too)
2 onions, sliced thin
1 tsp ginger-garlic paste
1 tsp whole cumin seeds
2 fresh green chillies, slit (fewer or more according to taste)
1-2 tbsp cooking oil
1 tsp garam masala (if available)
OR
mix of 1/2 tsp cinnamon powder, 1/2 tsp powdered black pepper, 1/2 tsp powdered coriander seeds
1 tbsp freshly chopped coriander leaves, for garnish - optional

Method:

1. Heat the oil in a big wok, add the whole cumin seeds, fresh green chillies and ginger-garlic paste. Fry this for about 30 seconds, stirring constantly.

2. Now add the sliced onions and the garam masala or spice mix. Cook the onions until they turn soft and begin to brown a little, then add the cooked green peas and rice.

3. Turn this mixture over carefully to distribute everything evenly. Take care not to break up the rice grains.

This can be made ahead and reheated in a microwave oven. Just before serving, garnish with freshly chopped coriander leaves.