Another orange cake recipe, because I've got so many at home. Oranges, I mean. I think there must be at least a dozen-plus oranges left even after I ate two, and Rebecca a few more (good thing she was here yesterday)... that's what comes of taking up the "Buy one dozen, get the next dozen free" offer at the supermarket. Pete doesnt stop to think if we can use whatever's going cheap - he's just so entranced by the bargain that he just grabs them (which is why I prefer to do the shopping!). Then they sit around at home, quietly going rotten while I frantically try to use them up somehow, ANYhow.


Which brings me to the cake. It's a much more moist affair than the orange-chocolate marble cake, with lots of golden sultanas and nuts. The best thing about it is that there's no complicated beating and adding and care involved in making the batter. Just assemble the ingredients and mix 'em up. My kind of cake!


I usually dont chop up the sultanas for any cake, but this time I did - sat in front of the TV watching sitcoms while I snipped the sultanas up with my spare embroidery scissors (my kitchen scissors unaccountably having disappeared). I also used three kinds of nuts in the cake - brazils, pecans and macadamias.The traditional way is to use vanilla extract as flavouring, but I decided to substitute that with about a teaspoon of powdered cardamom seeds.
The cake smelt gorgeous - there's nothing as wonderful as the sweet aroma of cardamom - and the cardamom brought to mind (and tongue) the memory of the rava kesari that I love... very nice indeed!The icing with fresh orange juice (what else!) and grated orange peel just topped the cake off nicely, adding the extra sweetness that Pete requires.

Recipe for:
Nut-and-sultana orange cake flavoured with cardamom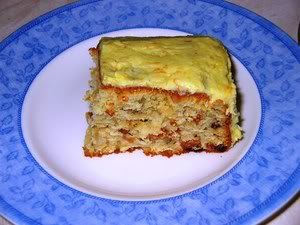 Ingredients:

2-1/2 cups all-purpose or cake flour
2 tsp baking powder
1/4 tsp baking soda
1/2 tsp salt
1-1/2 cups sugar (I used 1 cup light sugar, 1/2 cup Splenda granular
1 tbsp orange zest
1 cup golden sultanas, snipped to pieces (can be left whole too
1/2 cup mixed nuts (I used pecan, macadamia and brazil), chopped
1-1/2 cups buttermilk
2/3 cup margarine or butter
3 eggs
1/2 tsp cardamom seeds, powdered fine
OR
2 tsp vanilla extract

For the icing

1/3 cup margarine or butter, softened but not melted
2-3 cups icing sugar
1 tbsp orange zest
Fresh orange juice (about 1/2 a medium orange squeezed, more if required

Method

1. Sift the flour with the baking powder, soda and salt in a big mixing bowl

2. Add the rest of the ingredients to the flour, making sure that the batter is well mixed

3. Put the batter in a greased 9" cake tin (round or square) lined with silicone paper. Bake in a moderate oven (180 degrees C or 350 Fahrenheit) for 45-50 minutes, or till done. Poke a cake tester in the middle to see if it's done.

4. Let the cake sit for 5 minutes in the tin, then unmould and cool completely on a wire rack.

Icing: Put the icing ingredients in a bowl and mix well, adding as much orange juice as required to make the icing spreadable. Ice the top and sides of the cake.