I dont get fresh fenugreek (methi) greens in any "English" supermarket around where I live. The closest place it's available is Telford, about 20 miles away. Even there, you can only get it on a Wednesday. And even then, ONLY if you're there by 10 a.m, which is when the little Indian grocery shop gets its weekly supply of fresh vegetables. You have to be there within half an hour of the fresh stock arriving. Go there even by noon, and the fresh greens (whether it's methi, varieties of spinach or coriander leaves) are all sold out, snapped up by the local Indians and Jamaicans. Since I dont drive, I only rarely get fresh greens from that shop - usually I manage to cadge a ride from Pete when he has some work at a client company in Telford.

Given this situation, I've thought on and off about trying to grow my own methi greens. Didnt get around to it, however, because I didnt have enough fenugreek seeds to spare. But on my latest trip to Birmingham, I got a bag of seeds for the express purpose of trying to grow them. The idea of germinating them before planting them came from Nupur (food blog: One Hot Stove). Her post
Primer on sprouting lentils
was a great help!


So I soaked the hard brown fenugreek seeds for a day, then wrapped them up in damp cheesecloth for 4-5 hours - by which time they were sprouting little green shoots. Then I dumped half of them into a pot of virgin compost, and the rest in a small area that I cleared in the back garden. This was on Sunday. And what with the strong sunlight and the torrential rains we had, the sprouts grew an entire inch in just a day!

Here they are, growing very nicely indeed: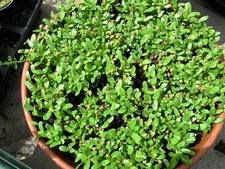 Cant wait for them to grow up so I can use my very own fresh, home-grown methi greens!