One of my favourite recipes, because it's so tasty and easy to make. It is predominantly a South Indian dish, usually comprising part of several other rice recipes that are made for weddings or festivals. But I have found that it makes a great side dish for mexican recipes or as an accompaniment for North Indian-style gravy curries. It looks pretty too - depending on the amount of turmeric powder used, it could be anything from a pale lemony yellow to a warm golden yellow. (I like to stop with the lemony colour.)

From left, going clockwise: Cashew nuts, urad dal, chana dal, mustard seeds, cumin seeds. Centre: Turmeric powder
I guess this can be jazzed up with finely cut, cooked vegetables like green peas, green beans, bell peppers, even corn - but what I made today is the basic version. I dont think my mother used to add the cumin seeds in her version, but I like them as they add to the flavour of the rice.

Recipe for:
Lemon rice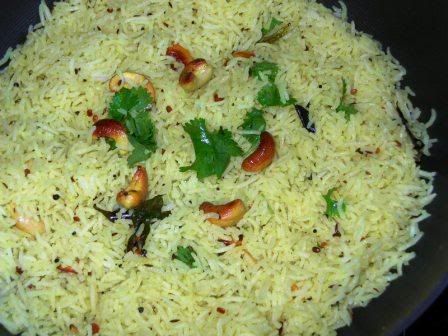 Ingredients:

4 cups basmati rice cooked al dente
1 tsp turmeric powder
1 tsp urad dal
1 tsp chana dal
1 tsp black mustard seeds
1 tsp cumin seeds
4-5 fresh curry leaves
2-3 green chillies, chopped very fine (more or less acc. to taste)
2-3 dry red chillies (optional)
Juice of one lime/lemon (4-5 tbsp, or as required)
2 tbsp oil
Salt to taste
10-12 cashew nuts, roasted in a little oil to a golden brown
2 tbsp fresh coriander leaves, roughly chopped

Method:

1. Heat the oil in a large wok. Add the curry leaves, the dals, mustard seeds, cumin seeds, the chopped green chillies and the dry red chillies (if using). Fry on high, covered, until the mustard seeds stop popping and the dals have turned reddish brown.

2. Add the turmeric powder and mix. Then put in the rice and salt to taste, and mix well, being careful not to break the grains.

3. Heat the rice thoroughly, then turn off the heat and pour the lemon juice evenly over the top of the rice. Stir again so that the juice is distributed throughout. Taste and add more lemon juice, if required.

4. Serve hot, garnished with the cashewnuts and coriander leaves.

Note: You can use roasted peanuts instead of cashewnuts.