It goes by a lot of names - "kundru" in the North (or so my mother tells me), "kovakkai" in Tamil Nadu and Kerala, "dondekaya" in Telugu and "ivy gourd" in English. It probably has a few more names in a few more languages. I have heard it called "gherkin" by some people, but I'm pretty sure that's wrong. Gherkins are baby cucumbers, and I can assure you that kovakkai is NOT cucumber, baby or otherwise.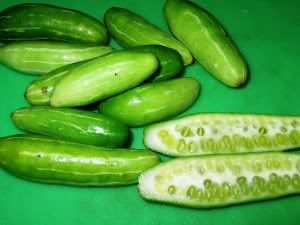 Actually, the vine on which it grows is considered a weed in some areas - which actually makes me want to see if I cant grow it here at home. After all, the main characteristic of a weed is that it can be grown easily, even by people like me who have a natural ability to kill growing plants.

Again, kovakkai is not what I would call my most favourite vegetable, but it's allright enough eaten once in a while. Since I get it fresh only very rarely, it's enough to make me eat it quite willingly. Plus it's low-calorie, rich in minerals and B complex and, best of all, its low-glycemic index makes it good for diabetics.
Mind you, kovakkai is best eaten when the vegetable is tender. That is to say, when it's cut, it should be green inside. I guess one way to tell when it's over-ripe (not nice to handle OR eat) is if it "gives" slightly when it's pressed between finger and thumb. Absolute confirmation can be had from the colour of its innards when it's cut - a vile reddish pink colour. Kovakkai are also quite difficult to cut when ripe, and the juices are sticky and horrible as well.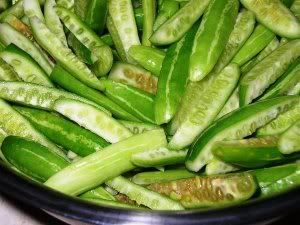 There are a few different ways of cooking this little vegetable, but I opted for the simplest one this time - stir-fried, as a side-dish to be eaten with drumstick sambar and white rice, accompanied by microwaved appalams (papads/poppadum) for a reasonably healthy, perfectly South Indian meal.

Recipe for:
Kovakkai (ivy gourd) stir fry
Ingredients:
1/2 kilo kovakkai, cut into strips (trim the tips off before cutting)
2 tsp cooking oil
1 tsp red chilli powder
1/2 tsp garam masala (OR) 1 tsp rasam powder (both optional)
1 tsp urad dal
1 tsp little brown mustard seeds
Salt to taste

Method:

1. Heat the oil in a wide pan, add the mustard seeds and urad dal. Cover while the mustard seeds pop and the dal turns golden brown.

2. Add the red chilli powder and stir it around for a few seconds, then add the kovakkai.

3. Mix well, then turn the heat down to low, and cover the pan.

4. Let the kovakkai steam-cook for 15 minutes. Uncover the pan and turn up the heat. Add the salt and the rasam powder, mix well.

5. Keep an eye on the vegetable while you cook it for a few minutes on high, until little brown spots appear on the bottom layer. Serve hot with white rice and any sambar.