I like baking muffins - they're so quick and easy to do. Unfortunately I enjoy the baking part way better than the eating part, because of my under-developed sweet tooth. Pete likes muffins warm from the oven but once they cool down, they lie around neglected. And his kids, aged nearly 11 and nearly 13, dont like muffins at all - yeah, practically unbelievable, but true. So I dont do muffins nearly as often as I'd like to.

However, today I was in the mood. I had a basic recipe for herb and cheese muffins, so I decided to see what I could do with mostly Indian ingredients, but with a slight western touch. To that end, I picked about a cupful of coriander and fenugreek leaves. Then, because I didnt want to use cheddar cheese with those particular herbs (yep, methi leaves are classified under "herb" rather than "greens" for this recipe!) and didnt quite know what else to add, I rummaged around in my kitchen shelves to see what I could come up with.

That turned out to be a jar of whole-grain mustard with black pepper and white wine, with about a heaped tbsp remaining. Wondering all the time whether it was a good idea, I emptied out the mustard and added it to the batter. And still on an experimental note, I sprinkled parmesan cheese on some of the muffins, and added drained, chopped sundried tomatoes in oil to the rest, and set them to bake, hoping for the best.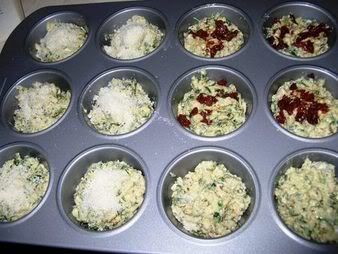 Boy oh boy, it turned out to be a tremendous success - Pete liked them (didnt bother trying them on the kids - they're SO resistant to anything different, it's amazing) although, since he was expecting sweet muffins, he was taken aback at first by the savoury flavour. But he agreed that they would be perfect with soup - or even parma ham (which combination he's welcome to try - I dont touch the stuff).




As for me, I absolutely loved the muffins! They would, as Pete said, be the perfect accompaniment to soup and salad for a light, healthy meal. If I can keep my hands off them before dinner, that is.

Next time I would probably add some chopped green chillies, because I think I would like the muffins even better with some added zing. Yummm....
Recipe for:
Savoury methi-mustard muffins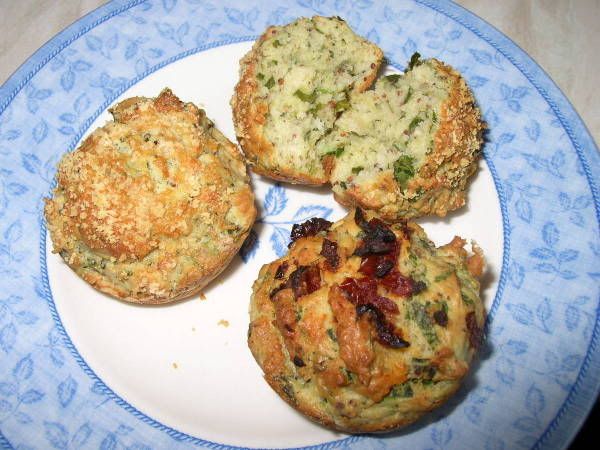 Ingredients:
2 eggs
1/4 cup butter/margarine
1/3 cup chopped fresh fenugreek leaves and coriander leaves
2 cups self-rising flour
1 heaped tbsp whole-grain mustard
1/2 tsp baking soda
1/2 tsp salt
3/4 cup low-fat/whole milk (use according to preference
Optional
3-4 tbsp parmesan cheese, grated
2 tbsp sundried tomatoes in oil, drained and chopped

Method

1. Pre-heat the oven to 180C (350F). Spray/grease a 12-cup muffin pan lightly with oil

2. In a medium bowl, beat the butter/margarine and mustard till well mixed

3. Add the eggs one at a time, beating well between additions.

4. Mix in the chopped herbs

5. Add the salt, baking soda, flour and milk to the batter and fold in quickly but gently till the ingredients are just mixed. Do NOT overbeat or the muffins will turn out tough

6. Spoon the batter into 6 of the muffin cups, leaving the tops rough. Sprinkle the tops with the parmesan cheese.

7. To the remaining batter, add the chopped sundried tomatoes, mixing lightly. Spoon the batter into the remaining 6 cups.

8. Bake for 20-25 minutes, or till the muffins are golden brown and done.

9. Serve warm as they are, or with soup and salad.