I love my greens - any greens, which is a quantum change from when I was younger. But I cant really tell them apart, taste-wise, unless it be the sour-sharp tangy "gongura", which is an Andhra specialty (as demonstrated deliciously by
Indira
in her blog). I wish I could get gongura here. The Indian grocery market in Birmingham does not run to quite such regional varieties, unfortunately.

My mother used to buy "ara keerai" and "mola keerai" from the local travelling vendor, claiming that the two were different in taste - but I could never tell them apart, either in looks or in taste. "Saag" and "palak", North Indian varieties of spinach, are interchangeable as well, to me. If I cant get these known Indian greens, I'm happy to settle for the generic "greens" available in the English supermarkets. I honestly dont find them any different when used in dals or cooked, mashed and seasoned in the Tamil way.

Today, though, there was fresh saag (or it could have been palak), courtesy of a foray to the Birmingham shops, and some of my very own home-grown fenugreek greens (yessss!), so I decided to make saag-paneer. And then while rummaging in my cupboard, I found a nearly empty pack of pink masoor dal - it came to about 1/2 cup. It didnt seem worthwhile to store such a small amount or transfer it to a tin, so I decided to use it up.

Voila! - saag paneer with masoor dal.

The cupful of fenugreek greens (methi) added to the saag provided the winning touch, because the final result was just mouth-wateringly tasty. I do love my methi! And the 1/2 cup of masoor dal, cooked, was just enough to hold together the rest of the ingredients, making it unnecessary to add any cornflour or rice-flour as a thickener. And boy was it tasty! Masoor is one of my favourite dals because it cooks so quickly. I've always though it a bit of a shame, though, that the pretty salmon pink colour disappears when the dal is cooked - it turns yellowish instead.

Oh, and the best part of this dal - the only fat content is from the paneer. If you use low-fat paneer, so much the better!

Recipe for:
Saag-paneer with masoor dal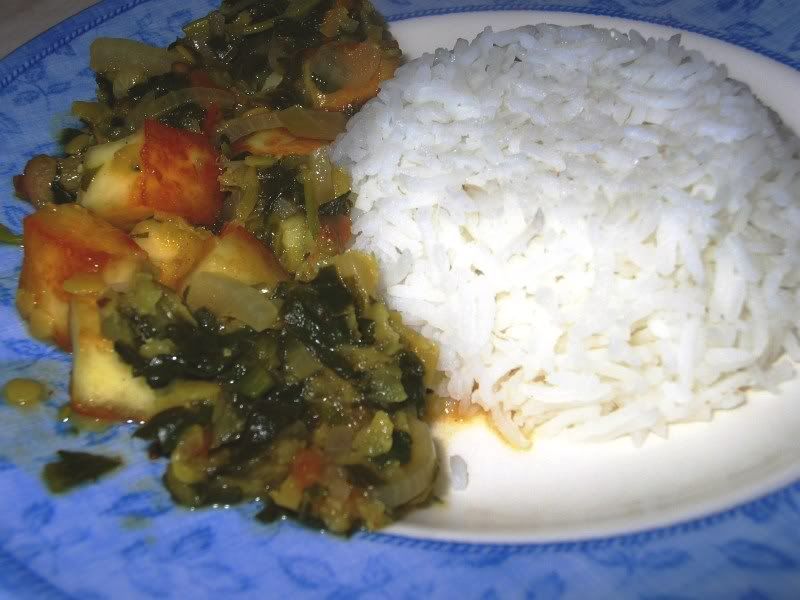 Ingredients:

1 bunch fresh spinach leaves, cut into strips
1 cup fresh methi (fenugreek) leaves, chopped
1 large onion, sliced thin
2 large ripe tomatoes, chopped
200 gm paneer, cubed and lightly stir-fried in a tsp of oil
3 green chillies, chopped fine (optional)
1/2 tsp red chilli powder (optional)
1/2 tsp garam masala or chana masala
2 large cloves garlic, chopped
3/4 cup pink masoor dal
1/2 tsp turmeric powder (optional)
Low-fat cooking oil spray

For tempering:
1 tsp oil or ghee
1/2 tsp garam masala
1 heaped tsp cumin seeds
2 dried red chillies, broken in half (optional)

Method:

1. Wash the masoor dal and cook it in about 1-1/2 cups water mixed with the turmeric powder, till it's done but not mushy. (Remove any froth with a spoon). Drain the water and reserve (about a cupful).

2. In a wide pan, heat the tsp of oil and add the garlic and chopped green chillies (if using). Stir-fry for 30 seconds, then add the sliced onions. Squirt the onions with a couple of sprays of cooking oil. Fry till the onions start turning brown.

3. Add the chopped tomatoes and cook for 2-3 minutes, then add the chopped greens. Sprinkle 3-4 tbsp of the reserved dal-water over the greens. Cover the pan and cook for 5-6 minutes on medium-low, until the greens are wilted and cooked.

4. Now add the red chilly powder (if using), the cooked masoor dal and the rest of the dal-water and mix well. Add salt to taste.

5. Add the lightly fried, cubed paneer and simmer the dal for 4-5 minutes.

Seasoning:

Heat a tsp of oil/ghee in a small pan, add the dry red chillies (if using) and the cumin seeds. When the seeds change colour and give off a nice aroma (a few seconds), add 1/2 tsp of garam masala and take the pan off the fire. Pour this seasoning over the surface of the dal and serve hot with plain steamed rice and microwaved papad.