This is the first recipe I've tried from Neelam Batra's cookbook 1000 Indian Recipes, which I bought recently. Thus far I'd only been reading the recipes and her descriptions and everything, rather like a storybook, and imagining the results in my head.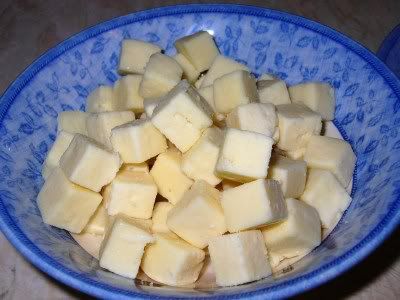 It seemed a little complicated, this recipe, at first look, but it isnt. Once the ingredients are at hand, it's quite simple. And whatever extra effort is required is oh so very wonderfully worth it! It's the best paneer dish I've made, as far as I'm concerned. If the rest of Ms Batra's recipes turn out as well as this one, I'm sold. I may never buy another Indian cookbook again... (yeah right!)

I think what gave the recipe the extra nudge, taste-wise, was the boiled onion paste. Normally I dont have the patience for fiddly procedures like this, but this time I thought I'd actually follow the recipe properly... and the REAL reason I did it is because this paste can be made and frozen (according to Ms Batra) and used when required.

PS. In her book, Ms Batra forgot to mention when to add the boiled onion paste, but I haven't! :)

Recipe for:
Paneer with potatoes and green peas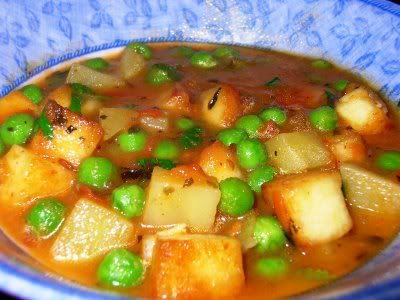 Ingredients:

2 cups paneer, cubed
1 cup green peas (frozen is fine)
3 medium red potatoes, cubed
2 large tomatoes, chopped
4-5 fresh green chillies, slit (optional)
1/4 cup yogurt at room temperature, whisked
4 tbsp oil
Salt to taste
1/2 cup boiled onion paste (method given below)



Clockwise from top: Kasoori methi, coriander powder, turmeric powder, fenugreek seed powder, red chilli powder, cumin seeds. Centre: Paprika
2 tsp kasoori methi (dried fenugreek leaves)
1 tsp coriander powder
1 tsp cumin seeds
1/2 tsp turmeric powder
1/4 tsp fenugreek seeds, dry roasted and powdered
1 tsp paprika
1 tsp red chilli powder (or to taste)
1/4 tsp ground nutmeg

Boiled onion paste:




1/2 cup water
2 onions, peeled and roughly chopped
1 black cardamom pod
1 bay leaf
1" piece of cinnamon stick

Method:

1. To make the boiled onion paste, boil the onions with the spices in a covered pan until the onions are soft and the water is evaporated. Remove the spices and discard. Grind the onions to a smooth paste (use any water that is left).




2. Fry the paneer cubes in 2 tbsp oil till they begin to take on a golden tinge. Drain on kitchen towels and reserve.

3. In a big pan, heat 2 tbsp oil. Add the cumin seeds and fry for 20 seconds, then add the rest of the spices. Stir for 30 seconds.

4. Add the chopped tomato and cook till it becomes mushy. Now put in the boiled onion paste and stir well. Let this cook for 5 minutes on medium-high.




5. Stir in the yogurt, tablespoon by tablespoon, stirring all the time to stop it from curdling.

6. Now add the cubed potatoes and stir well. Cook them for 5 minutes, then add 3 cups water and bring to a boil over high heat.




7. Reduce the heat to a simmer, cover the pan and let the potatoes cook till done (15-20 minutes).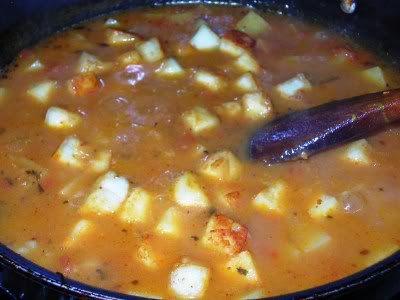 8. Add the paneer and the frozen green peas, stir well. Cover and let the curry simmer for about 10 minutes, till the sauce is thick and the peas are done.

9. Serve hot, garnished with a tbsp of fresh chopped coriander leaves. This is excellent with rice and naan.