I have to start off saying that I'm going to be somewhat sporadic with my posts for the next month or so. There's simply too much to do and not enough time to do it in... plus I havent been doing much cooking (see first part of this sentence + amma's doing the cooking).

Next Saturday we leave for the USA (NY-DC-Seattle and whatever else my sis & bro have got planned for us) and we're going to be there for 2 weeks and a bit. I'm hoping to be able to shoot off a few food or travel-based posts in that time, but obviously there arent any guarantees. But do keep coming by just to check things out from time to time - and I'll surely be keeping an eye on all my favourite blogs too!

It would be even nicer to meet up with any bloggers who are in the area - drop me a line on shyam69@gmail.com if so, and we can take it from there.

That said, on to the okra that I made today, more or less following a recipe from Neelam Batra's 1000 Indian Recipes.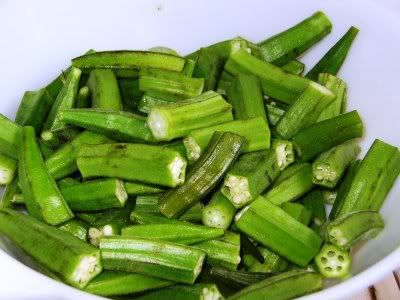 She said okra is very nice when baked in the oven... that was a new one on me, so of course I had to try it. I have to say the end result wasnt bad at all - they were spicy, tangy and slightly crisp and nicely browned... excellent results for a healthy recipe using only a little oil! They also didnt end up gooey - a very important point because I'm not partial (nor do I know anybody who is) to anything that has the texture of nasal debris arising from a bad cold. (Sorry if I grossed anybody out, but if it's any consolation, I'm grossed out myself just at the thought!)

Ms Batra also says that oven-baked okra freezes very well, but since what I made didnt last beyond one meal (amma, me and Pete demolished it!) the freezing part of this trial will have to be reserved for another time.

Recipe for:
Spicy oven-baked okra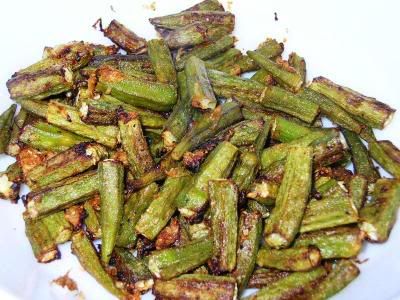 Clockwise (from top right): Ginger-garlic paste, chaat masala, cumin powder, coriander powder, lemon slices. (centre) Red chilli powder.
Ingredients:

4 cups fresh okra, cut into 2-inch pieces (I removed the heads)
1 tbsp ginger-garlic paste
1 tsp cumin powder
1 tsp coriander powder
1/2 tsp red chilli powder (or to taste)
1 tsp chaat masala (readymade is fine)
2 tsp oil (I used olive oil)
Juice of one large lemon (3-4 tbsp)
1 tbsp gram flour (chickpea flour)
1 tbsp rice flour
Salt to taste

Method:

1. Combine everything but the okra in a large bowl, whisking to blend well.




2. Add the okra to the bowl and mix carefully with your hands or a large flat spoon to coat the pieces with the masala.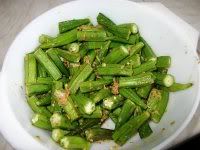 3. Lay out the okra in a single layer on a lightly greased baking sheet or on non-stick silicone paper.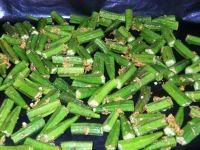 4. Broil it in the oven for 5 minutes or until the tops acquire brown spots.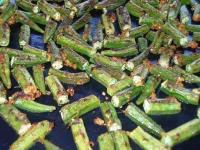 5. Now turn on the oven to 220C and bake the okra on the lowest rack for 6-8 minutes or till the bottoms are browned nicely.

6. Serve hot as a side dish with rice or roti, or as a snack. I served mine with tangy lemon rice.