When Pete made a request for egg curry ("for a change", he said - but a change from what? That question has not yet been graced with an answer), I dithered for a while on which recipe to follow, but finally settled on Neelam Batra and her 1000 Indian Recipes. I mean, I've only tried a couple of her recipes so far (although to be fair I've made them more than once) and it seemed a bit of a waste to have a whacking great cookbook merely taking up space in my kitchen without being used more.




Ms Batra has a few egg-curry recipes, including one "Kerala style" using coconut milk. I normally dont like coconut-milk based curries (things like kormas, for instance) because I think they taste bland and boring and, worst of all, have an unpleasantly sweetish aftertaste. But I thought I'd give this a try, because Pete likes coconut milk-y stuff. (If you ask me, there isnt much to say in favour of British-Indian cooking... but there you go, it's what he's been used to.) I should add here that the recipe has been scaled down quite a bit from the original.

Also (here it comes again), I had a small can of light coconut milk (and by that I assume it was milk from the "second squeezing") which needed to be used up before the expiry date.
(I REALLY hope nobody counts all the recipes that I've made only because "things needed using up" - I think it would be a rather embarrassing number!)

(Good grief, the number of parentheses I've used so far would probably set a record in the Guinness Book for Bad Writing. Then again, as long as I dont set any records for Bad Cooking, I guess I wont complain.)

Anyway, back to my egg curry. The pleasant surprise was that the curry did not taste sweet at all whatsoever, even though I used only one chilli. In fact, I couldnt have said there was coconut milk in it if I had not made it myself. I would have liked it very much more had it been a lot spicier, but I was being careful (yet again) (and there are those darned parentheses YET AGAIN!) of a certain person's lack of chilli-tolerance.

Actually it was a really good thing I didnt make it spicy, because Pete's daughter Rebecca chose to try the curried eggs rather than have pizza like her brother. She liked the curry so much that she actually had seconds - and then asked for thirds. Now THAT, as far as I'm concerned, sets the seal on the matter of this curry's edibility. She's not always willing to try anything new - and this, though she said it was spicy (whaaaat?!!!!! spicy???? The one little red chilli I used probably died of loneliness and over-use in all that curry!), went down very well.

It's nice to occasionally make something that a finicky English pre-teen will eat.

Recipe for:
Curried eggs in coconut milk gravy


Ingredients:

For the sauce:
1 large onion, chopped roughly
10 curry leaves
4-5 dried red chillies (or to taste)
1" piece ginger, sliced
2-3 cloves garlic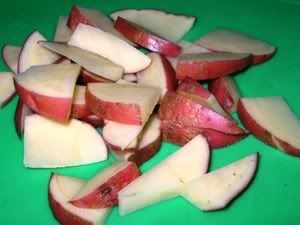 1 medium red potato, sliced in wedges
1-1/2 cups coconut milk
4 eggs, hard boiled, peeled and cut in half lengthwise
2 tbsp oil
1 tsp cumin seeds whole
1/2 tsp cumin seeds powdered
1 tsp coriander powder
1/4 tsp turmeric powder
2 cups water
Salt to taste

For garnish:
2 tbsp fresh chopped coriander


Method:

1. Heat the oil in a pan and fry the red chillies, curry leaves, garlic and ginger for about a minute, until the chilli turns a darker shade.

2. Add the onions and fry them on medium-high heat until they turn golden brown.




3. Cool and grind to a paste using enough coconut milk to make the paste smooth and pourable. Reserve.




4. Heat the other tbsp oil in a pan and add coriander powder, cumin seeds, cumin powder, coriander powder and turmeric powder. Fry for 30 seconds, stirring continuously.

5. Now add the potato wedges and stir well to coat them with the spice mix. Spritz the potatoes with some Pam and let them fry on medium-high for a few minutes.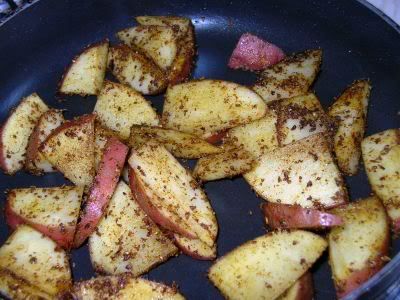 5. Then add the ground paste to the potatoes in the pan and mix again. Let this cook for about 5 minutes on medium-low.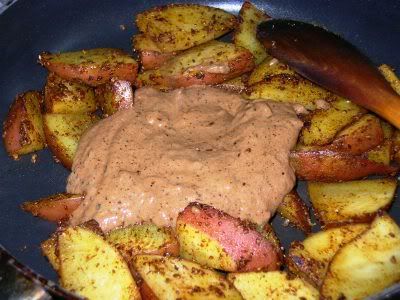 6. At this point, pour in the remaining coconut milk and let it simmer for another 5 minutes.




7. Now pour about 1-1/2 cups water to make a gravy. Let this come to a boil, then lower the heat and simmer the sauce till the potatoes are cooked and the gravy has become thick. If it seems TOO thick, add 1/2 cup water to thin it. Add salt to taste.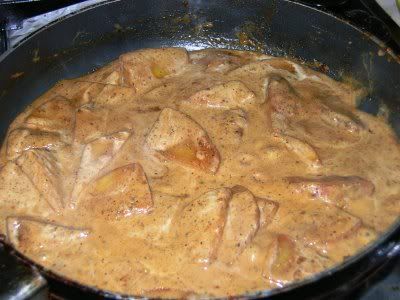 8. Gently place the halved boiled eggs in the sauce. If the sauce doesnt completely cover the eggs, use a spoon to pour some of the sauce over them. Simmer the eggs in the sauce for another 5 minutes.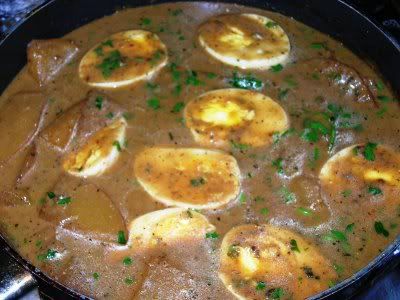 9. Garnish with fresh chopped coriander leaves and serve hot with rice or chapaties.

Note: If you are not going to serve the curry at once, you can add the eggs just before you are ready to serve.