This was literally the only thing that I managed to take photos of during my short stay in Seattle with my sister. And I had every intention of writing a blog post about the recipe, except I didnt get five minutes to sit down and write. Mainly because most of the time got taken up shopping for the party that we were throwing for my mother's 60th birthday, and then cooking up our share of the pot-luck. Thank goodness it was only a pot-luck event... I cant imagine how much work - not to mention time - would have gone into a full-fledged session in the kitchen!

Anyway, this recipe is from my mother, and one of the things she made for the party - thokku with Granny Smith apples.




I had previously mentioned to her the difficulty of getting sour green mangoes in and around Shrewsbury, and she said that Granny Smiths made for a more than acceptable substitute. Me being me, I believed her but wasnt quite sure what to expect. (My mother is a lot less critical of edible things - and the edibility of some things - than I am!)

As it turned out, the thokku was more than acceptable - it was delicious! The sweet tartness of the Granny Smiths worked very well with and was the perfect foil for the heat of the red chilli powder used in cooking the thokku. Any really sour apple (perhaps even unripe ones) would work very well, I'm sure. This thokku was yummy rolled up in puris and as an accompaniment for dosas and idlis. The best part, as far as I'm concerned, is that I can make green apple thokku as often as I like, instead of having to wait for a trip to Birmingham's Asian markets for unripe green mangoes. Yay! Thanks, ma.

Recipe for:
Granny Smith apple thokku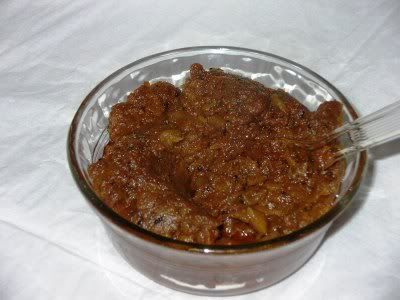 Ingredients:

4 medium Granny Smiths (or other very tart apples)
2 tsp mustard seeds
5-6 curry leaves, torn up
1 tbsp red chilli powder (or to taste)
1/2 tsp asafoetida powder
1/2 tsp coriander powder
1/2 tsp fenugreek seeds
5-6 tbsp oil
Salt to taste

Method:

1. Core, peel and chop the apples.




2. In a pan, dry-roast the fenugreek seeds till they they change colour (a minute or two), shaking the pan frequently. Cool, powder and set aside.

3. Heat the oil in a pan and add the asafoetida powder, torn-up curry leaves and mustard seeds. Stir, then cover the pan and let the seeds pop on high (30 seconds).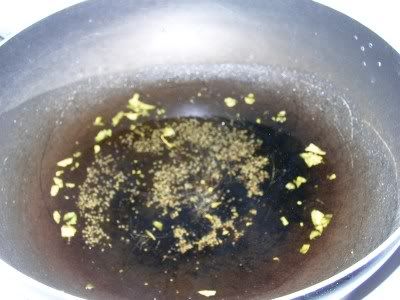 4. Turn down the heat, add the coriander powder and red chilli powder and stir for 30 seconds.




5. Add the chopped apples and mix with the spices till well coated.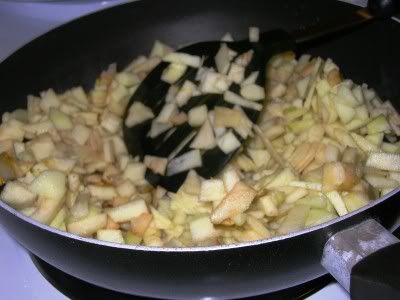 6. Sprinkle 1/4 cup water on the apples and cook on medium heat for 3 minutes, then turn the heat to low and cover the pan.




7. Let the apples cook, stirring occasionally, until they are cooked and soft.




8. Finally, add the powdered fenugreek seeds and salt to taste to the thokku and mix well. Store in an airtight container when completely cool.

This thokku lasts longer if kept in the refrigerator.