I got the recipe for this bean casserole from the Allrecipes site (Recipe ID=49287) because it sounded so nice. The author of the recipe described the casserole as "delightful", but I sort of discounted that as creator's pride. Kind of the way I describe some of my recipes as "incredible" or "wonderful", even knowing that most people would not believe it until they tried the recipe for themselves! My verdict about any recipe is always AFTER I try it for myself. Wouldnt make sense otherwise, right? The proof of the pudding (or casserole, or whatever) and all that...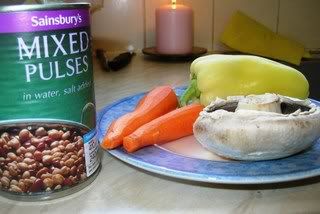 So I tried this recipe the other day, with a few slight changes - because of not having some ingredients handy, natch. It was a pleasant surprise to find out that the recipe originator hadnt oversold her submission! The casserole was different, incredibly (there I go!) tasty and flavourful - not to mention simple - that I consider it a staple. Lots of protein and veggies and carbs all in one go. I'm sure you can add whatever veggies you like, as well.

Dont just take my word for it, though. Try it and discover it for yourself. This is a delightful, wonderfully tasty casserole! In fact, it was so full of flavour that I didnt miss the lack of chillies in it. For me, that IS incredible.

Recipe for:
Bean casserole


Ingredients:

4 tbsp olive oil
1 large onion, sliced
1 medium carrot, sliced 1/2 cm thick
2 cloves garlic, finely chopped
1 bell pepper, seeded and chopped
1 large mushroom (like portobella), chopped into chunks
1 tbsp all purpose flour
1/2 cup water
2 tbsp concentrated tomato paste
1 tsp white sugar
1/2 tsp dried basil
1/4 tsp dried thyme
1 tsp fresh thyme leaves, chopped
1 tbsp fresh basil leaves, chopped
1 can (450gm) can mixed beans (or use just one kind, whatever you have)
1 tsp fresh ground black pepper
1 medium loaf French bread, cut into 1/2 inch thick slices
1/4 cup grated parmesan cheeese

Method:

1. Preheat the oven to 220C.

2. Heat 2 tbsp olive oil in a skillet over medium heat. Add the garlic, onions and carrots and cook till the onion is soft, stirring often.




3. Stir in the sugar, pepper and mushrooms and continue to cook till the onion is light brown.




4. Sprinkle the 1 tbsp flour over the vegetables and stir, cook for a minute.




5. Then mix in the water and tomato paste.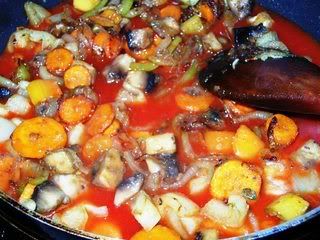 6. Mix in the beans and season with salt and pepper.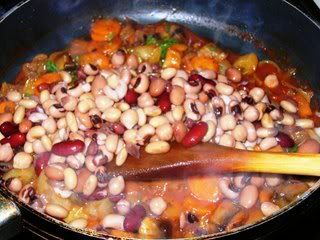 Stir in the dried herbs and fresh herbs.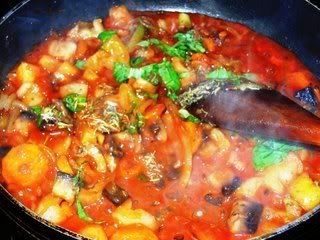 7. Stir well, then transfer to a lightly greased casserole dish. There should not be too much sauce, it should be quite thick.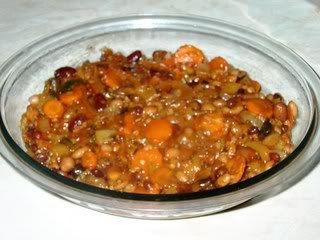 8. Pour the remaining 2 tbsp olive oil in a dish. Dip one side of each slice of bread in the oil, then arrange on top of the casserole with the oiled slice facing up. Sprinkle over the parmesan cheese.




9. Bake for 12-15 minutes in the pre-heated oven, until the bread and cheese are toasted.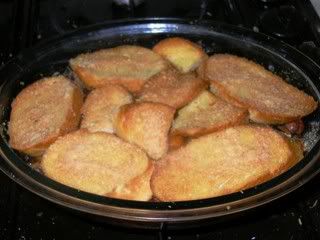 10. Serve hot, accompanied by a green salad.