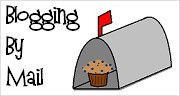 I've been very tardy about putting up this post, but my excuse is that I didnt want to post about the parcel I received until MY parcel was in the post, on its way to its recipient. (And yes, I'm standing by that story.)

I got my BBM package about 4 days back, actually. There it was, sitting by the door when I got back from work. The moment I saw it, there was nothing to do but take it to the living room, plonk myself down on the carpet and open it up right then and there because I couldnt WAIT to see what the box contained! (Didnt even take the time out to kick off my shoes.)

Well, it wasnt literally right then and there, because I couldnt open it with my nails - the box was too well sellotaped. So I had to get up and get a pair of scissors. Sat down again to open the box, then realised that I didnt have my camera. So up I had to get again and get the camera so that I could record for posterity my very first BBM parcel ever! Being a food blogger is fun, and taking part in these foodie events is even MORE fun!

Anyway, my parcel was from Deb Schiff, of
Here and There
. No more waffling, here are the contents of my parcel: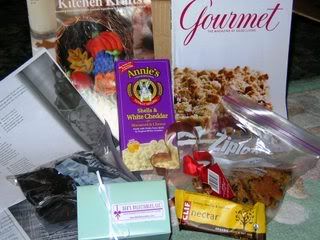 The carob brownies - oh, those brownies were TO DIE FOR! I've never ever EVER had such deeply darkly richly gooey brownies... and once Pete had had a taste, I damn near had to beat him off with a stick. They were the best brownies I've ever had and I wish I could make them that way. Deb was kind enough to include the recipe, but agave nectar is not available in the UK (unless you want to pay £15 for 100ml - which I think is extortionate even given that agave nectar has to be imported from Mexico or the US). However, I shall keep that recipe and treasure it... maybe one day I'll be able to make use of it!

Deb is a chocolatier - but she cant eat sugar or chocolate, I'm guessing because of an allergy. Included in the parcel was a cute little box of chocolates handcrafted by her, specially excluding coconut (as you can see, she went the extra mile for me!):




Those chocolates didnt last long either.

I had the last of the cookies today.

I ate the organic fruit-and-nut bar.

I damn near ate the Gourmet magazine, the Kitchen Kraft booklet and the two recipe sheets as well. (But I didnt. They're safe.)

Deb also included a gingerbread man cookie cutter with a request to "pass it on and start a new tradition" - but I couldnt do that (for reasons I wont disclose just yet) this time. However, I promise to send it on in the next BBM round, to whomever I'm assigned to send a parcel. On my honour, Deb! I'll keep the gingerbread guy safe till then. :)

And finally, thanks to Stephanie, the
Happy Sorceress
, for hosting this Blogging By Mail event. It's the first time I've participated in it, and it's been good fun. Now to wait and see what the recipient of MY parcel has to say...