When I say "murukku", I dont mean "thenkuzhal" or "ribbon pakoda" or "muLlu thenkuzhal" or any of the other crunchy, deep-fried snacks that plenty of people have written about on their blogs.

Murukku to me always and forever denotes the lovely twisty circles you get at weddings. (You can also buy really yummy ones at Saravana Bhavan or Grand Sweets - in Chennai, but of course). The thing about murukku is that they dont contain any chilli whatsoever - the only flavouring comes from cumin seeds (something Pete is thankful for. He likes murukku!) I've never made it myself, because it takes a heck of a lot of skill to make the things by hand. I've seen my mother making it (very rarely, for probably the same reason as me) with indifferent success as to aesthetics, although always rating very high in the taste factor. Apparently both my grandmothers were dab hands at it, but that particular talent doest seem to have been passed on to us, unfortunately.

Still, after looking at the perfect, beautifully-twisted murukku made by
Menu Today
, I thought I would try my hand at it too. I should have known better. On the whole, I neednt have bothered, and I think I will refrain (for a change?) from detailing the failure of my efforts! Thank goodness I made the dough in a small quantity, on a trial basis.

Of course I took the easy way as regards the rice flour - I used ready-made rice flour instead of soaking rice, drying it and then grinding it into flour. Too much trouble, too little time. Anyway, that could be part of the reason why the dough didnt turn out better than it did. So I decided to make murukku rings instead. I can do rings, me - no problem. Break off a bit of dough, roll it between the palms to a sort of cigar-shaped 2-inch piece and join the ends. Tadaaa... murukku rings! Yep, that's pretty much the limit of my skills.

Recipe for:
Murukku rings


Ingredients:

10 tbsp rice flour
1 tbsp urad dal flour
1 tbsp cumin seeds
1 tsp butter
Salt to taste
Water as required
Oil for deep frying

Method:

1. Put the flours, cumin seeds, butter and salt in a bowl. Make a fairly stiff dough, adding water little by little.

2. Pinch off small pieces and roll between the palms into oblongs about 2" in length. Join the ends, pressing them together lightly to form a circle, so that the ends dont come apart in the oil.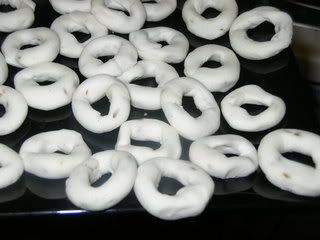 3. Let the rings dry for 15 minutes, uncovered. Then fry them in hot oil until brown. Drain on absorbent paper and store in an airtight tin when cool.