Think coconut paired with paneer and sweet corn is weird? Yep, I think so too. I thought "weird" when I saw the recipe in Neelam Batra's 1000 Indian Recipes cookbook; I thought "weird" when I decided I'd try it; I continued thinking "weird" even as I followed the recipe and made the paneer and believe you me I definitely thought "WEIRD" when I finally tasted the paneer. I guess you might have caught on to the fact that "weird" was the catchword of the day and weirdness the outcome.

I say "weird" (I know - many many times!) but I mean that not in an "ugh that's disgusting" way (not entirely) but more in a "that's strange and I dont know what to think" sort of way. In other words, folks, the jury's still out.

Pete felt pretty much the same as I did - but the thing is, we cant quite come to an agreement on what was the strange part of the taste experience with this paneer dish. (Ms Batra describes it as paneer with a south indian touch... but I guess everybody is entitled to his or her opinion whether or not I agree - cookbook authors included!)

And talking about disagreement, the part that I found weird in this dish was the coconut. (Yep, Saffron, turns out I'm not as fond of coconut as I'd thought I was! *wink*) While the coconut masala was being ground into a paste, it smelled absolutely mouth-watering... but a little while thereafter, the recipe lost its way and never managed to return to the "mouthwatering" area. But maybe I just dont like coconut in certain dishes.

Then again, there was Pete - he normally doesnt like coconut (unless it's as coconut milk used in Thai dishes) but this time it was not the coconut he was doubtful about, it was the sweetcorn! He felt it was too sweet overall for the dish. (I must say I didnt find the sweetcorn a problem once I'd brushed off the coconut masala. Yes, it was a painstaking job but worthwhile to me.)

Anyway... the end result of this rather strange recipe was edible enough in its own way. I might make it again just to see if I like it any better or worse the second time around... but I think I'll probably skip the part where the coconut masala had to be stir-fried for 10 minutes till brown. I'm also going to use less coconut and grind it as fine as possible - perhaps that might make a difference. And oh yeah, I'll substitute green peas for the sweetcorn so that Pete can also be persuaded to give it a second chance. (I suppose at this rate it's not going to qualify as the same recipe, though, is it?)

Not for the first time I wonder if cookbook authors (or the reviewers/publishers) actually honestly try out the recipes before the book goes into print. I have to say that sometimes it doesnt seem that way.

Recipe for:
Paneer with sweetcorn in coconut masala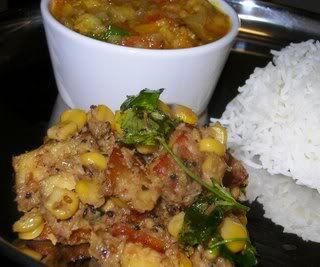 Ingredients:

1/4 cup coconut milk
1/2 cup paneer, sliced into thin 1-inch pieces
1/2 cup sweet corn
2" piece ginger, peeled and sliced
3" piece fresh coconut, coarsely chopped
1-2 jalapeno peppers, coarsely chopped
1 large onion, coarsely chopped
10 fresh curry leaves
2 tbsp oil
1 tsp cumin seeds
1 tsp mustard seeds
1/4 tsp asafoetida powder (optional)
1 tsp ground coriander seeds
1/2 tsp freshly ground black pepper
Salt to taste
Coriander leaves for garnish

Method:

1. Stir-fry the paneer in a tsp of hot oil till the pieces begin to turn golden. Remove from pan and reserve.

2. Using a blender, mince the ginger, coconut and jalapeno peppers.
Add the onion and curry leaves and blend again until the onion is minced, but not ground into a paste.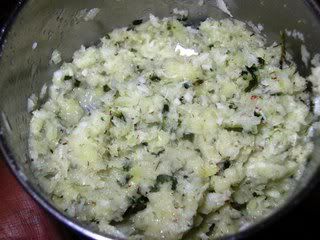 3. Heat the oil in a pan and add the cumin and mustard seeds. Cover and let pop.

4. Then add the ginger-onion mixture.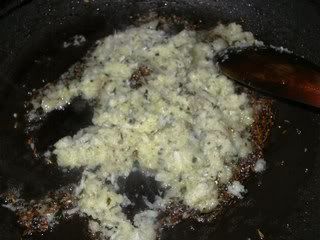 Stir-fry for about 5-8 minutes or till the moisture evaporates.




5. Add the asafoetida powder if using, coriander powder and salt, then add the paneer and coconut milk. Cook over medium heat for 5 minutes.




6. Now add the corn, cover the pan and cook, stirring carefully, over medium heat until any remaining moisture is absorbed.




7. Sprinkle the pepper powder and coriander leaves over and serve hot.