I've named this recipe after the friend who kindly provided me with it! It's actually her mother-in-law's recipe but since I dont know her name, Sona Karela it will remain!

Actually she emailed this recipe a few months ago - or around the last time I put up a bittergourd recipe on this blog. That's how long it's been waiting in the wings to be tried out. The problem is bittergourds arent available in the regular supermarkets or greengrocers. And it's a long way to Tipperary - I mean Wolverhampton - just to get karela and although I ended up there a couple of times, the bittergourds I found were old and tough, looking very much like the goondas (thugs) of the vegetable market, or else soft and oozy, reminding me of - well, never mind what they reminded me of (I leave that to your imagination). Certainly they didnt deserve to be treated as food, so I left them well alone.

Last time I got luckier and managed to pick out 3-4 small, reasonably tender karela. My friend's recipe said to cut them in pieces, but because the gourds were small, I just sliced them into rounds. The seeds were soft enough not to need removal, so the slices looked really pretty, like little green suns.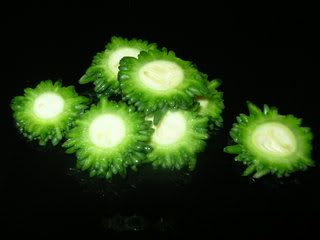 The recipe is laughably simple using a pressure cooker, and the end result very yummy with puri, chapati or rice. Yup, I ate it over 3 days because that was how much I ended up making! It would probably be plenty for 2-3 people for one meal. I really enjoyed my Sona Karela - it had just the right amount of bitterness, not so much as to coat the back of the tongue and make everything bitter. Still, on the whole this recipe is for people who like bittergourd. Of late, their numbers include me! I guess I'm getting more used to the bitterness of this vegetable... although I dont think I'm quite up to drinking karela juice yet!

Recipe for:
Sona karela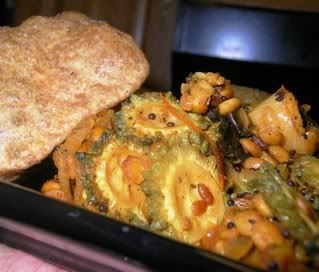 Ingredients:

1 heaping cup tender bittergourd, sliced into 1/4cm rounds
3/4 cup chana dal, washed and drained
2 tomatoes, chopped
1 large onion, sliced thin
1/2 tsp turmeric powder
1 tsp red chilli powder (or to taste)
Salt to taste

For tempering:

1 tsp mustard seeds
1/2 tsp coriander powder
pinch of asafoetida
2 tbsp oil

Method:

1. Put the chana dal, sliced onion, chopped tomatoes, sliced karela, red chilli powder and turmeric in a vessel along with 1/2 cup water.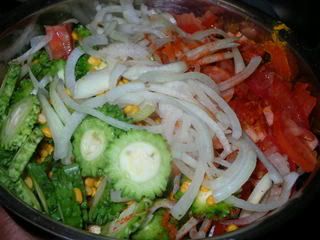 Pressure cook for two whistles. Let the pressure reduce naturally before opening the cooker.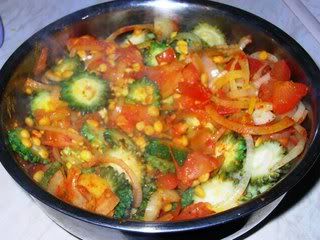 2. In a pan, heat 1 tbsp oil and add the tempering ingredients. Cover and let the mustard seeds pop.

3. Add the pressure-cooked vegetables to the pan and mix well. There shouldnt be too much water left at the bottom. The dal should be al dente - cooked but firm and retaining its shape. Overcooking will make the dal soggy and spoil this dish, in my opinion.

But if you think the dal and/or the karela could do with a little more cooking, add some water (depending on how much was left originally), cover the pan and cook for 5-7 minutes on low heat.

Once the dal and karela are cooked to your satisfaction, add salt to taste and mix well. Turn the heat up to high, pour the remaining tbsp oil over and cook for another 5 minutes or so, till the vegetable-dal is dry.

Serve hot with chapaties or as an accompaniment with rice and
mor-kuzhambu
or
vattha-kuzhambu
.