This chutney was inspired by a recipe that I saw on
Sailu's Food
- a blog which I love for the quality of photos and the recipes. I'd say the ingredients are pretty much those listed on Sailu's recipe for coriander-coconut chutney, but I played around with the quantities a little. I prefer my chutneys not to be overwhelmed by the peanut taste and texture, otherwise it ends up like rather strange peanut butter to me. Good for sandwiches but not really dosas or idlis or rice, as I discovered. But of course, goes without saying (even though I'm saying it) that's just the opinion of MY peculiar taste-buds.

Recipe for:
Coriander-mint-peanut coconut chutney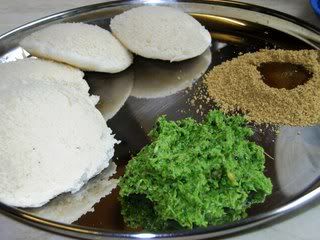 Ingredients:

1 tsp oil
1/2 cup fresh grated coconut
1 tsp cumin seeds
1/2 cup fresh coriander leaves, chopped
10 mint leaves
5 green chillies, chopped roughly (or as per taste)
1 tbsp roasted peanuts (I used the ready-bought roasted salted kind)
Water as required
Salt to taste

For tempering:

1 tsp oil
1 tsp mustard seeds
1 tsp urad dal
4-5 fresh curry leaves, torn
pinch asafoetida

Method:

1. Heat 1 tsp oil in a small pan and roast the cumin seeds. green chillies and coriander and mint leaves till the leaves are wilted.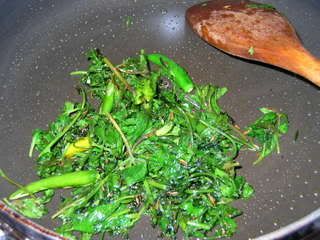 2. Let cool then grind the wilted leaves with the coconut and peanuts until smooth, using water as required. If you like the chutney thick, use only as much water as required to grind without trouble. To make a runnier chutney (for rice, for instance), add a little more water till you get the consistency required.




3. Add salt to taste and mix.

4. Heat the remaining tsp oil, add the asafoetida powder, mustard seeds, curry leaves and urad dal. Cover and let the seeds splutter, then immediately pour the tempering over the chutney. Mix well. Serve with dosa, idli, vada, etc.