The word "muLlu" translates into "thorn" in Tamil - and it's an apt description for this savoury crunchy snack, because it DOES have little "thorns". That's because the plate with the star-shaped hole is used in the
"murukku press"
.

I made this for post-Christmas holiday snacking since I was not enamoured of all the strangely potato flavoured crisps that appeared during that time. If you went by just the names alone, you'd think that nobody needed to cook a turkey or goose or anything else for Christmas. Why bother when you could get an entire Christmas feast of potato crisps, like "turkey with cranberry sauce", "roast lamb and mint sauce", "honey baked ham with onions". Right?

Wrongo.

We didnt buy a single pack of those ambitiously stupid Christmas crisps. We made do with some home-made snacks and salted nuts.

Actually I almost didnt make these mullu thenkuzhal when I discovered that the recipe called for moong dal flour. I didnt have any such thing. But then I decided to make the extra effort (Christmas, after all) and ground moong dal to as fine a powder as possible in my little coffee grinder. It took a lot sifting and grinding, and even more patience, but I persevered. And finally I had the 1/2 cup of very fine moong dal flour required for the recipe.

Next time I make this it will be a LOT simpler, because I'm asking my mother to bring some moong dal and urad dal flour from India when she comes in end-Feb. Cant wait for these and other goodies to arrive with her but I'll be patient till then. Or burst trying.

Recipe for:
MuLlu thenkuzhal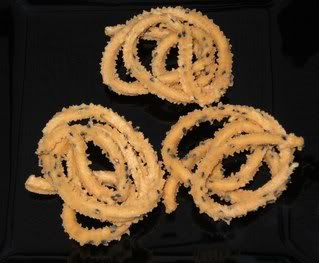 Ingredients:

Rice flour - 2-1/2 cups
Gram flour (besan) - 1/2 cup
Moong dal flour - 1/2 cup
Urad dal flour - 1/8 cup
Salt to taste
1/4 tsp asafoetida powder
2 tsp red chilli powder (or to taste)
2 tbsp sesame seeds (I used black for contrast)
1 tbsp butter
Water as required
Oil for deep frying

Method:

1. Mix all the ingredients in a large bowl.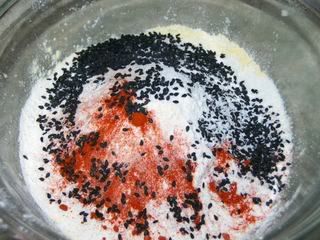 Make a fairly stiff dough, using only as much water as required - the dough should be pliable but not anywhere near runny. Keep covered with a damp cloth.

2. Heat the oil on high. When a small piece of dough dropped in rises to the top immediately, the oil is at the right temperature.

3. Pinch off a portion of dough to fit into the press (use wet fingers to push the dough in, if it's turned out too stiff) and quickly make squiggly round shapes - 3 or 4 at a time, or one large one, as you like.

4. After a minute or so, turn the heat down to medium high and fry the thenkuzhal, turning occasionally, till it is golden brown and crisp. Drain on absorbent paper and store in airtight tins. This keeps fresh for 3-4 weeks - assuming it doesnt get polished off in the first two days!