First of all, happy Pongal/Makar Sankranti to everybody!

"Pongal" denotes the name of the harvest festival as well as the sweet rice pudding that is made traditionally on the day, In Tamil, it means "boiling over". Usually sweet or "chakkara" pongal is made, but I went with both varieties because a friend of mine wanted to know how to make the savoury kind, or Venn pongal, as it is known. All I can say is, I hope she likes my version!

I like black peppercorns but only when powdered - to bite into one is one of my least favourite things to do (the others being biting into pieces of ginger, or whole cardamom - bleagh!). Anyway, so when I make Venn pongal, I crush the peppercorns to a coarse powder.

To anybody who might conceivably want to try my recipe for Venn pongal, please be aware that the traditional way to make it is to leave the peppercorns whole.

The quantities used in the recipes below make enough for one person. A tip: If the Venn pongal turns out too thick, add some water just off the boil and stir briskly to bring the pongal to a more "runny" consistency.

Update: I forgot to mention that for chakkara pongal, you can use 1/2 cup milk + 1/2 cup water, or even just milk to cook the rice+dal. Makes the chakkara pongal tastier, basically.

Recipe for:
"Chakkara" pongal and Venn pongal
Chakkara pongal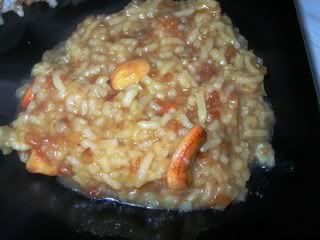 Ingredients:

1 tbsp moong dal
3 tbsp rice
1 cup water (or 1/2cup milk + 1/2cup water, or even 1 cup milk)
1/2 tbsp ghee
1/4 cup jaggery/gur/palm sugar
2-3 strands saffron (optional)
1/4 tsp powdered cardamom seeds
1 tbsp cashew nuts
1 tbsp raisins

Method:

1. Dry-roast the moong dal, stirring frequently, till it becomes golden brown.





Left: Moong dal roasted. Right: Moong dal raw



2. Add the rice to the dal and wash 3 times in running water.




Drain, then add one cup of milk/water to the rice-dal mix and cook in a pressure-cooker for 3 whistles. Turn off the heat and wait till the cooker can be opened. The rice-dal, when cooked, should be well-done and not stand out as separate grains. Mash the cooked rice a bit to break the grains and get the right consistency.




3. Place the jaggery in a pan and add 1/4 cup water.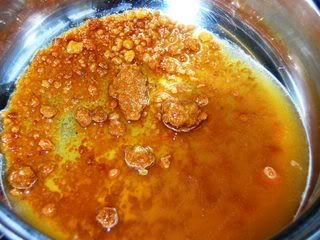 Bring to a boil, stirring, then add the saffron strands if using. Simmer gently until the jaggery is melted.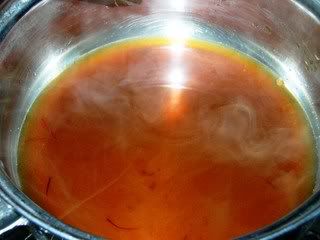 Strain the liquid if there is any sediment at the bottom.

4. In another pan, heat the ghee and fry the cashew nuts and raisins till the cashews turn a pale gold.

5. Now pour in the melted jaggery, then add the mashed rice-dal mixture and cardamom powder. Mix well. Serve hot or at room temperature.


Venn pongal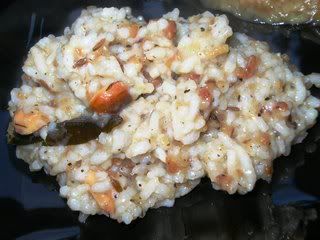 Ingredients:

1 tbsp moong dal
3 tbsp rice
1 cup water
1 htsp black peppercorns (i crushed them but leave them whole if preferred)
1 htsp cumin seeds
1/2 tsp ginger grated
A few curry leaves,torn
1 tbsp ghee
1 tbsp cashew nuts
Salt to taste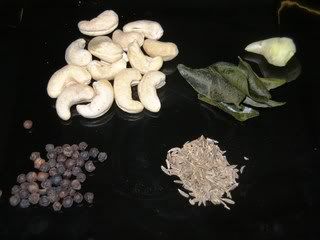 Method:

1. Follow steps 1 and 2 as above.

3. Heat the ghee in a saucepan and fry the cashewnuts till they start turning pale gold. Now add the grated ginger, cumin seeds, curry leaves and peppercorns and fry for 30 seconds, stirring.




4. Add the mashed rice-dal mix and salt to taste, stirring to mix thoroughly.

5. Heat through, stirring well, and serve hot with coconut chutney or gothsu.