I got the original recipe for this cake from http://www.eggless.com and appropriated it for my own use, as it were, halving the ingredients to make a smaller cake and substituting others to make it lower in fat if not in sugar. The cake tasted quite nice, but the texture was heavy, with a dense crumb.




I assume that was because of the lack of eggs to make the batter light, but I could be wrong. Perhaps it was because I used low-fat yogurt instead of sour cream.

In any case, I'll be trying out more eggless cakes from now on because I've just bought a book published by the Bhaktivedanta Book Trust - "The Book of Eggfree Cakes". The author goes by the somewhat unlikely name of Cintia Stammers - not that her name is of any consequence, as long as the cakes turn out well.




The reason I say I'll be trying out the recipes in the next couple of months is because my mother's arriving next week - and since she does not eat eggs in any form, she'll be the perfect guinea pig for the eggless cakes I bake! Watch this space. Or, more accurately, watch this blog! :)

Recipe for:
Eggless almond cake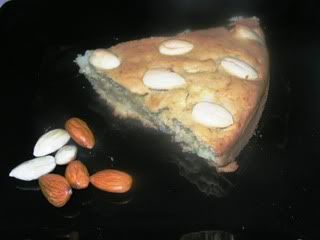 Ingredients:

1-1/4 cups white self-raising flour
1/2 tsp. baking powder
1/4 cup butter
1/2 cup caster sugar
3 tbsp fat-free yogurt (I used Greek-style)
1/2 cup milk
1/2 tsp almond essence
1/4 cup flaked almonds
15-20 whole almonds, de-skinned
Non-stick spray to grease the cake pan

Method:

1. Preheat the oven to 170C. Grease a 6-inch round cake pan.

2. In a mixing bowl, cream the butter with the sugar until light and fluffy.

3. Sift the flour and baking powder into another bowl. Mix the yogurt and the milk together in a small jug.

4. Add 1/3 of the flour mix to the creamed butter and beat in thoroughly. Then pour a third of the milk mixture and beat it in. Finish up the remaining flour and milk mix the same way till you get a fairly thick batter. Make sure you beat well after each addition.

5. Now stir in the almond essence and the flaked almonds.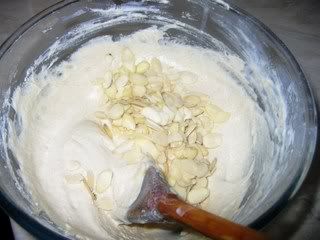 Pour this batter into the greased baking tin.

6. Arrange the whole almonds in a pretty pattern over the batter, pushing each almond in lightly with a finger tip but without making them sink in to the batter.




7. Bake for an hour or till the cake tests done. The almonds on top should be a light brown.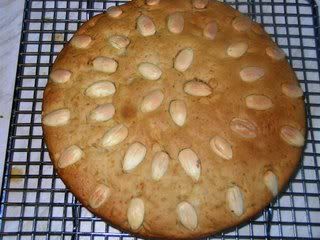 8. Turn the cake out onto a wire rack and let cool completely before slicing.