Beans, beans the musical fruit
The more you eat, the more you toot
This ditty has one major error and one major truth - the error is that beans arent fruit and the truth is that yes, they DO make you "toot"! Which is why we Indians tend to use ginger - especially in bean recipes - to aid digestion and reduce the tooting involved.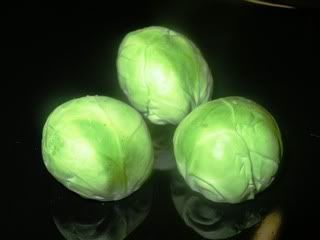 However, beans arent what I used to make today's dinner - it was brussels sprouts, those little baby cabbagey vegetables that make people go "yum" or "yuck" with no real middle ground between like and dislike. I'm firmly in the "yum" camp and Pete just as firmly belongs to the "yuck" camp. Sometimes I really wonder what it is that keeps us together because we're SO unalike in major ways - starting with food!

Anyway, this sambar was entirely and only for myself. Since I was cooking with sprouts, something Pete wouldnt touch if you put him before a firing squad, I made it as spicy as I could possibly want. But as sprouts are pretty much up there with beans in the tooting department, I decided to add a generous tablespoon of grated ginger while making the sambar.

Now, ginger is not an ingredient that goes in any sambar I've made thus far and I wasnt sure what effect it would have on the taste. I neednt have worried - the sambar was delicious! I used more tamarind than I normally would, but it went well with the sprouts and ginger, methinks, gving it a sharp piquancy.

I paired the sambar with plain steamed rice, pan-roasted potatoes, a simple tomato-cucumber salad and microwaved appalam (papad) and considered myself well and truly pampered.

Oh, and I dont mind adding that thus far, not a single toot has announced its presence!

Recipe for:
Gingery brussels sprouts sambar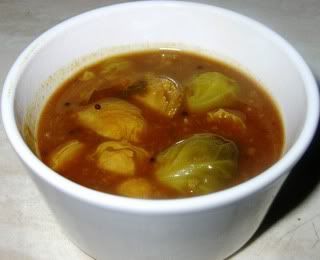 Ingredients:

1 generous cup cooked and mashed toor dal

10 brussels sprouts, washed, trimmed and quartered
1 tbsp tamarind paste, dissolved in 4 cups hot water
1 tbsp ginger root, grated
1 tsp oil
pinch asafoetida powder
5 green chillies or to taste
2 htsp sambar powder
Salt to taste

For tempering:
1 tsp oil
5-6 fresh curry leaves
1 tsp mustard seeds

1 tbsp chopped coriander leaves for garnish

Method:

1. Heat 1 tsp oil in a saucepan. Add the asafoetida powder and green chillies and stir-fry for 30 seconds.

2. Add the quartered brussels sprouts and stir fry on high heat for a minute, then add the ginger root and fry for 30 seconds more.

3. Add the sambar powder and mix, then pour in the tamarind water.

4. Bring the mixture to a boil, then reduce the heat to medium heat and simmer till the sprouts are cooked.

5. Now add the mashed toor dal (mixing it with 1/4 cup hot water first to make a pourable paste) and stir it in well. Add salt to taste.

6. Let the sambar boil for 5 minutes.

7. To do the tempering, heat 1 tsp oil in a small pan. Add the curry leaves and mustard seeds, cover the pan. When the mustard seeds have finished popping, pour it on the sambar.

8. Mix well. Garnish with chopped coriander leaves.

If possible, let the sambar sit for 2-3 hours to let the flavours develop. Bring to a gentle simmer again, before serving hot with plain rice and any vegetable curry.