My herbs - curly and flat leaf parsley, Italian and Thai basil, oregano, mint, thyme and rosemary - are all growing like crazy at the moment, and I'm throwing them into practically everything I make, to try and keep up with their profusion. It's lovely to have fresh herbs handy, but somewhat difficult to know what to do with them since I dont need to use them all every day! (If only I could grow coriander in the amounts I need - but that's not really feasible, as it's the one herb which I DO tend to use a whole lot).

One of the recipes I tried out today was scones with fresh herbs. It's a quick, painless - and eggless - recipe and believe me, the scones are LOVELY! I'm sure you could add some chopped green chillies to give your tastebuds a kick-start, but I didnt because of the rather gentler palates around me!




The scones are gorgeous served warm, split and spread with garlic butter, as an accompaniment for soup. (Mine was courgette-mint soup - recipe coming). I also tried some with celery chutney as a dip - yummy!

Recipe for:
Five-herb eggless scones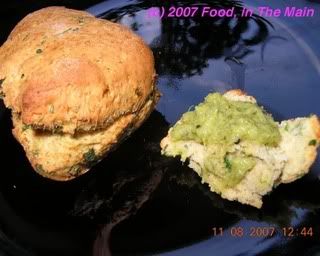 Ingredients:

1 cup plain flour
1/2 tsp salt
1/4 tsp baking soda
1/2 tsp baking powder
1 tbsp butter
1/3 cup milk (or as required)
2 tbsp fresh finely chopped herbs (thyme, rosemary, parsley, oregano, basil)





Centre: Oregano; Clockwise from top right: Rosemary, thyme, Thai basil, curled parsley



Method:

1. Preheat the oven to 220C and lightly flour a baking sheet

2. Sift the flour, salt, baking soda and baking powder into a bowl.

3. Rub in the butter till the mixture resembles fine breadcrumbs.

4. Mix in the herbs.




5. Gradually add enough milk to make a light, spongy dough.

6. Turn the dough onto a lightly floured surface and knead till smooth.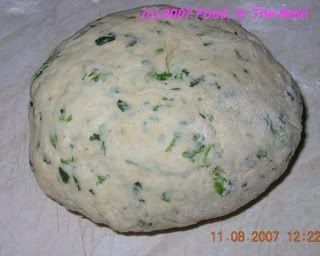 7. Roll it to 1" thick. Cut into rounds with a floured 2" cutter, if desired. (I just cut them through with a pizza cutter, so I got four triangles and two square shapes!).




8. Place the scones on the prepared baking sheet and bake for 10-15 minutes or till well risen and golden brown.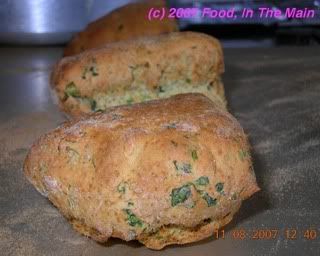 9. Serve warm, split and buttered if you like, along with soup.