There was quite a lot of the syrup left when I'd made
stewed summer fruit
, so Pete suggested I make a cake and use the juices to sweeten it. It seemed like a good idea, but then I wasnt sure how to set about it. Thank goodness for google, because I found a recipe
here
that was perfect for a starting point.

I didnt use half a cup of butter (as the recipe recommended) and I used wholewheat flour (actually it was chapati flour!) for the cake. Plus, of course, my cup-and-a-half of leftover fruit syrup. (Or you can use 1-1/2 cups of frozen orange juice concentrate in place of the syrup.)

Since I didnt add any extra sugar, I was pretty sure the cake would not have been quite sweet enough. Pete's suggestion was to make orange icing with fresh orange juice and orange zest, so I did - carefully this time, so that it didnt become runny. When he had a taste of the icing, he looked thoughtful for a few moments, then came up with yet another suggestion - to add grated ginger.

Now I like ginger in savoury dishes and use it all the time - but to use it, raw, in icing, didnt seem like the best idea. I was pretty sure it would be a horrible combination, but as it turned out, it worked remarkably well. So well that even I liked the icing despite my misgivings. So did Pete. He was actually quite magnanimous and didnt rub anything in - not the ginger, not the orange juice and not even his success! :)

I suppose that this is really Pete's cake - all I did was follow his suggestions. So here's his recipe for fruit juice cake with orange-ginger icing. Ta-dah!

Recipe for:
Fruit juice cake with orange-ginger icing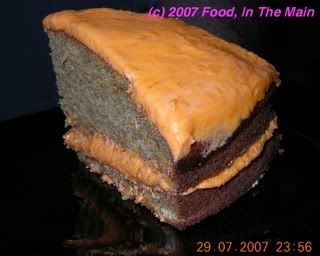 Ingredients:

2 tbsp butter, melted
1-1/2 cups stewed fruit syrup (or frozen orange juice concentrate)
2 eggs
1 teaspoon vanilla extract
2 cups whole wheat flour (or pastry flour)
1/4 tsp salt
1 tsp baking soda

For the icing:

2 cups superfine or icing sugar
1/2 tsp orange food colouring (optional)
1 tsp orange zest
A few tbsp fresh orange juice (as required)
1 tbsp fresh grated ginger

Method:

1. Combine the melted butter and the fruit syrup (or fruit juice concentrate) in a large bowl.

http://i6.photobucket.com/albums/y246/shyam69/More%20food%20blog%20pix/cake.jpg

2. Beat in the eggs until the mixture is smooth. Add the vanilla extract and beat briefly.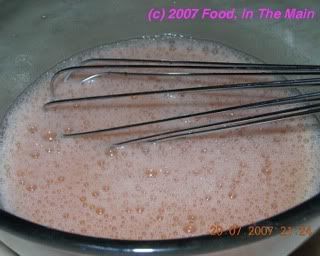 3. Measure the flour, salt and baking soda into the bowl.

4. Whisk the mixture until the batter is smooth and fluffy. This will only take a few moments.

5. Pour the batter into an 8" round baking pan sprayed with Pam.

6. Bake the cake at 350°F (180C) for 35 minutes or till the cake tests done. It should be golden brown and pull away from the sides of the pan.

7. Split the cake in half when cool, and ice with orange-ginger icing.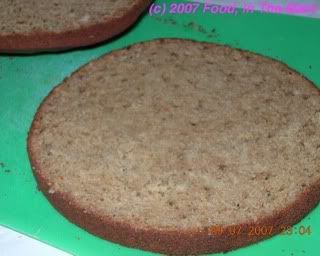 Store covered in the fridge.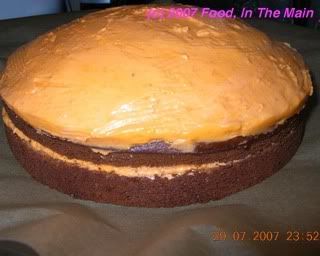 8. To make the icing, beat 1 cup icing sugar with 1-2 tbsp orange juice until fluffy. Alternate the remaining icing sugar with orange juice until the icing is creamy and thick enough to spread.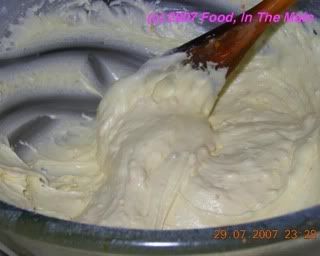 9. Add the orange zest, orange food colouring and grated ginger and beat well until fluffy and well incorporated.