Couldnt think of a punchy title for what I made, so I had to settle for a descriptive one. For starters, I'm not sure whether this can be termed "thoran" or "porial" or "sundal" - it has elements of all three. I bought farm-fresh beets (with greens!) and fresh spinach (the adult kind, fully grown) at the Shrewsbury market, and I didnt quite know where to start. Had too many bookmarked recipes to choose from and vacillated between them, discovering that I was short of this or that ingredient for this or that recipe. (Indecision, as Charlie Brown says, is an awful thing.)

So eventually I ended up making a fairly simple dry "curry". I peeled and chopped two carrots and a medium size beet into small chunks, then put them in the pressure cooker along with a handful of
green (or brown) lentils
. Two whistles of the pressure cooker and the vegetables were cooked to perfection - retaining their shape and not too soft. Plus, the beets gave some of their lovely colour to the carrots, ending up all pink and red and orange.


The lentils could probably have cooked a little longer (or maybe they could have done with a little water, because I didnt add any!) - they were just about al dente. Still, I like them chewy and they acquired a slightly softer texture by the time I was done making the curry.

The greens I washed and dried. Then I stacked and rolled up the leaves and cut them to thin ribbons, including as much of the stem as I could. It took only a few minutes to saute/wilt them in a pan while still retaining their bright green colour. After which I added the coconut-green chilly-cumin mixture and stirred it all up. Sauteed the whole thing for a few minutes, then served it up with rice and
celery thokku
for a meal that was agreeably - and surprisingly - nice! The bright jewel colours of the finished product was an added bonus.
PS. Please forgive me the rather clunkily edited (background cut out) first photograph below - my first attempt with Adobe Photoshop! I hope to improve over time...

Recipe for:
Carrot-beet-greens medley with lentils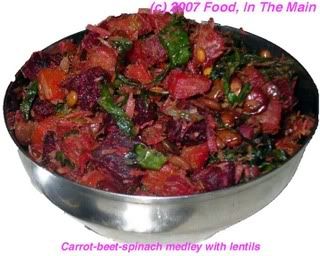 Ingredients:

To pan-cook:
1 cup sliced fresh greens
Salt to taste

To pressure-cook:
2 medium carrots, peeled and chopped into 1-cm chunks
1 medium beet, peeled and chopped into 1-cm chunks
a generous handful of green/brown lentils

To grind together:
2-3 generous tbsp grated coconut
1/2 tsp cumin seeds
4-5 green chillies

For tempering:
1 tsp mustard seeds
1 tsp urad dal
pinch of asafoetida
2 tsp oil

Method:

1. Put the lentils in a vessel with 2-3 tbsp water, then add the beets and carrots.



Pressure-cook for two whistles or till just done. Reserve.




2. Grind the coconut, cumin seeds and chillies together. Reserve.

3. Heat the oil in a pan, add the asafoetida powder, mustard seeds and urad dal. Cover the pan and let the mustard seeds splutter and the dal turns pale brown.

4. Add the sliced greens now.




Stir fry till they are wilted and nearly cooked, but still retain their colour. Add half of the ground coconut and stir in, cooking
on low heat for 2-3 minutes.

5. Now put in the cooked carrots, beets and lentils.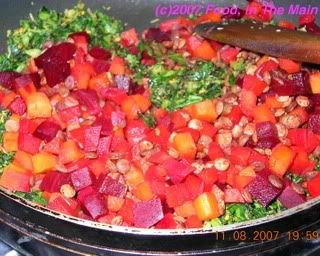 Add the remaining coconut masala and stir it all in, adding salt to taste.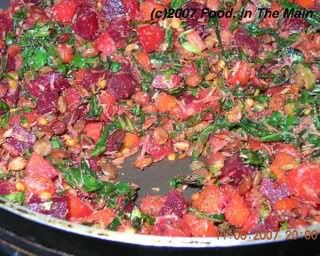 6. Stir the curry for another minute or two, making sure it is heated through. Serve hot as a side dish with rice/sambar/thokku or roti.