I made this cake for Christmas specially for my mother-in-law, as she couldnt eat the Christmas fruit cake because of her serious nut allergy. She has to be very careful what she eats - and by extension I have to be even more careful when she stays with us, making sure that everything I cook doesnt even have a hint of nuts. The recipe for this cake is from a book called "Cakes and Bakes" which I bought just before Christmas from a discount book store - man I LOVE those places! You can get such great bargains.

Anyway, the book has simple recipes with stunning photos... and this recipe caught my eye because it was different. It was called "Crunchy fruit cake", made with mixed exotic (read: dried pineapple, mango, etc) dried fruit and pine nuts. I fully intended to use the exotic mix because I had a bagful of it. (Had to leave out the pine nuts for obvious reasons.)
Just before I actually added the fruit to the cake mix, I glanced at the ingredient list and below that the allergy advice, not really expecting to see anything other than "dried mango, pineapple, papaya" and so on, and totally expecting it to only contain fruit. What else would you expect in a dried fruit mix, right?

I should have known better, though, because the pack said the contents were not suitable for nut allergy sufferers even though - get this - the recipe contained no nuts, the product was made in a nut-free area, but the contents could not be guaranteed nut-free as nuts might have been used elsewhere in the factory.

ARRRGH!

This is something that most food manufacturers seem to be stating nowadays as a way of covering their backside - just in case some nut allergy sufferer tries to sue them after a bad reaction to their product, I suppose. The thing is, no nut allergy sufferer can afford to take the risk of assuming that the manufacturers are only warning them off as a CYA (Cover Your Ass) procedure. So it makes it really difficult for people to buy ready-made food stuffs, even if it's only dried fruit for a cake!

I was really, really, REALLY glad that I happened to check the ingredients - perhaps there might not have been any nut traces in the dried fruit, but on the other hand, there might have been... and that could very well have been fatal for my mother-in-law. I have nightmares just thinking about what might have been, and I'm even more paranoid now about checking the labels on everything when she's with us, or if I make anything for her.

Anyway, because I couldnt use the exotic dried fruit, I checked to see if any of the regular sultanas or raisins could take their place. Nope. Same stupid warning on those packages as well. Luckily, there was a bag of dried currants which, amazingly, believe it or not, only contained dried currants! *gasp* Talk about Christmas miracles!




So that's why the fruit cake became a currant cake - and it was a lovely one. The amount of lemon juice used in the recipe gave a sharp flavour to the sweetness of the currants, adding zing to every bite. The currants sank to the bottom of the cake, but that didnt matter one whit, it made a lovely mouthful at the end! (It reminded me of a Famous Five adventure - cant remember which one - in which Dick says that he loves fruit cake where the fruit has all sunk to the bottom, making for a fruity last mouthful. For some reason that stuck in my head - sorry, I just HAD to mention it, irrelevant though it is!)
Pete's mother loved the cake, and so did I. So did Pete. Unfortunately for non-egg-eating folks, I'm afraid this required two eggs. The cake didnt rise much even with the two eggs and 1 tsp baking powder, so I doubt it would be possible to make it eggless. All I can say is, the cake was simple, and lovely! I'm almost tempted to give up Christmas fruitcakes, and I probably would too, but for Pete's howl of distress at the very thought. Did I mention he just lurrves fruitcake?

Recipe for:
Polenta currant cake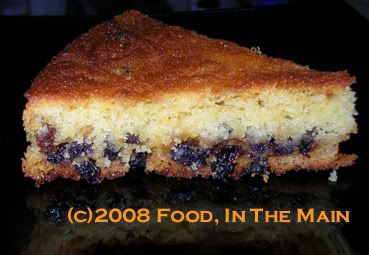 Ingredients:

5 tbsp butter
1/3 cup + 1 tbsp caster sugar
2 eggs, beaten
4 tbsp self-raising flour
1/2 cup polenta or cornmeal
1 tsp baking powder
1 cup currants
grated rind of one lemon
4 tbsp lemon juice
2 tbsp milk

Method:

1. Preheat oven to 180C/350F. Grease a 7" round cake tin with Pam (or use butter) and line the base with baking parchment.

2. Put the butter and sugar in a bowl and whisk together till light and fluffy.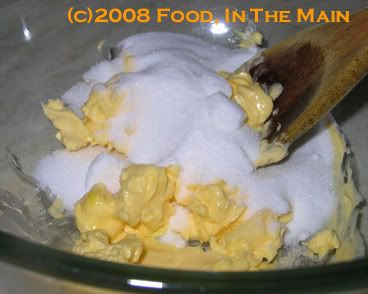 3. Then whisk in the beaten eggs, a little at a time, whisking thoroughly after each addition.




3. Gently fold the flour, baking powder and polenta into the mixture until thoroughly blended.

4. Stir in the currants, grated lemon rind, lemon juice and milk.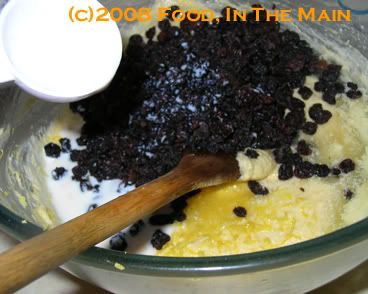 5. Spoon the mixture into the cake tin and level the surface.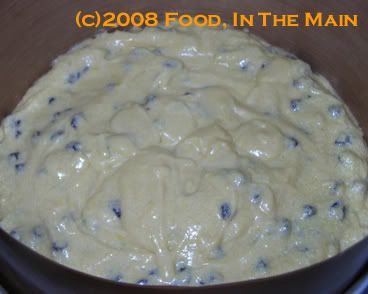 6. Bake in a preheated oven until the cake is golden on top, and a fine metal skewer inserted into the centre of the cake comes out clean.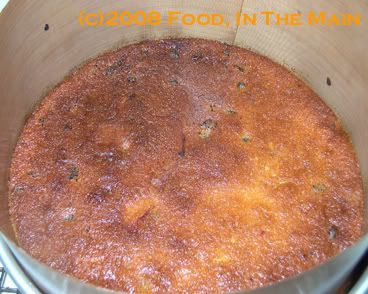 7. Leave the cake to cool in the tin before cutting.