I came across the
recipe for taporia/besan mirch on Vyanjanaa
by chance, fairly recently, and was hooked. For once I didnt just mark the recipe and sit on it for a few months waiting for my cooking instinct to grow up and become an adult - I acted pretty much rightaway.

G of Vyanjanaa says to use chillies that arent very hot, but I didnt have any such beasties - my choices were fiery long green chillies or the completely gentle bell peppers. Being too chicken to use just the green chillies for this recipe, I decided to use a combination of the chillies and a green bell pepper which, if I may say so myself, was a Very Good Idea.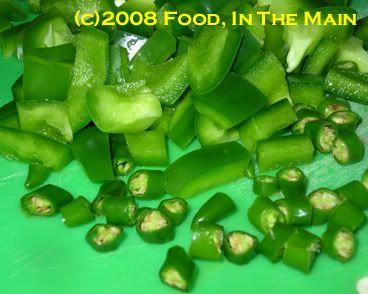 For those who are TOTAL wimps, omitting the chillies entirely and using just a green bell pepper will give you at least an idea of the taste of this really simple, quick recipe from Rajasthan.

Other than some more changes to the ingredients - omission of saunf (fennel seed) powder, increasing the quantity of besan, omission of red chilli powder as I know from experience that the green chillies I used are VERY hot - I followed G's cooking instructions to the letter. I have to agree with what she said in her post about this recipe: "simple ingredients, short cooking time and immense flavor and heat". I couldnt have put it better.

PS. G was going to get married in November 2007. Wherever you are, G, congrats and here's hoping that you have a long, happy and successful married life! I hope you'll come back to your food blog at some point.

Recipe for:
Taporia with bell pepper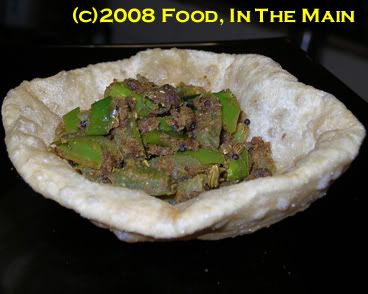 Ingredients:

3 tbsp besan/chickpea flour
5 hot green chillies, chopped into 1/2-cm thick chunks
1 large green bell pepper, de-seeded and cut into 1-cm pieces (about 1 cupful)
2 tbsp oil
1 tsp mustard seeds
1 tsp cumin seeds
1 tsp whole saunf (fennel) seeds
1/4 tsp heeng/asafoetida powder
1 tsp fennel powder
2 tsp coriander powder
2 tsp amchur (dried raw mango) powder
1/2 tsp turmeric powder
Salt to taste
3-4 tbsp water

Method:

1. Dry-roast the gram flour in a heavy-bottomed pan for 4-5 minutes on medium-low heat, stirring it all the while. You'll be looking for the flour to turn slightly darker in colour - it will also smell nice.
| | |
| --- | --- |
| | |
(Be very careful while roasting because the flour burns VERY quickly. Stir it thoroughly all the time.) Take the pan off the heat when the flour is done, and tip the flour onto a plate to cool.

2. In the same pan, heat the oil. Add the mustard seeds, cover, and let the seeds splutter. Then add the cumin and fennel seeds and let them fry for 20 seconds in the hot oil.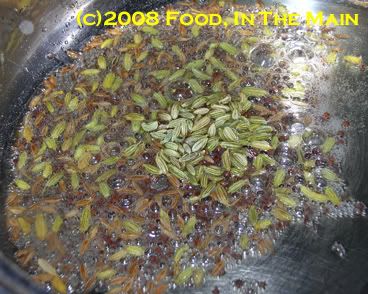 3. Add the chopped chillies and bell pepper and stir till the ingredients are well mixed.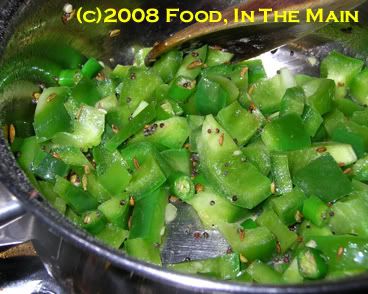 4. Now add 2-3 tbsp water,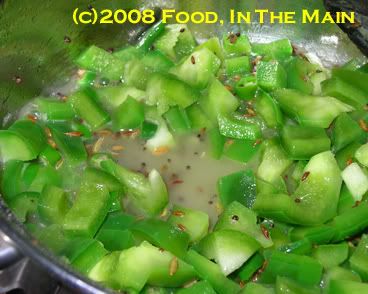 cover the pan, turn the heat back down to medium-low and let the peppers cook for 4-5 minutes.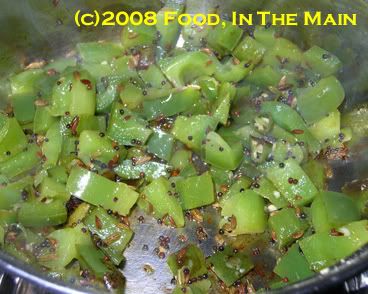 5. Remove the lid and add the various powders now, along with salt to taste. Stir till they are well incorporated with the peppers. (Add another tsp water now if the vegetable looks very dry.)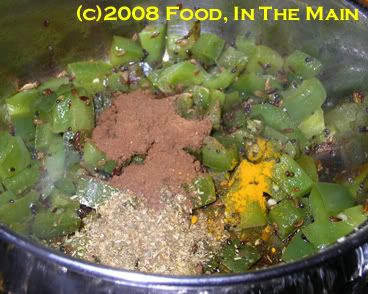 6. After 3 minutes, add the roasted gram flour and stir it in.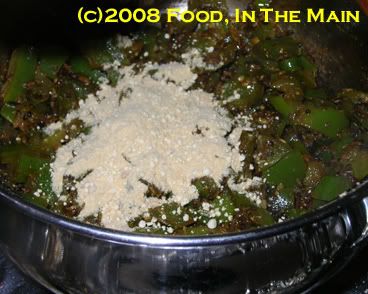 It will absorb any excess water in the pan. Keep scraping the bottom of the pan while stirring to dislodge any gram flour that is sticking to it.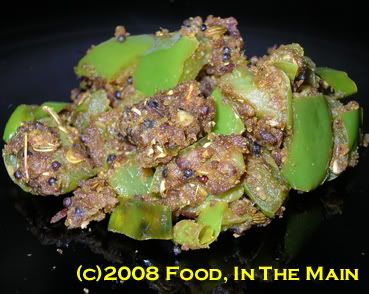 7. After a couple of minutes stirring, serve the taporia hot with chapaties or puris.